Event Aliases
Gorilla Warfare
Characters
First appearance
Last appearance
History
History of event has not yet been written.

Issues
Issues in event have not yet been added.

Paraphernalia
Items: None known.
Vehicles: None known.
Weapons: None known.

Notes
Trivia
Recommended Reading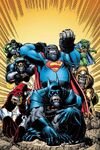 JLApe Crossover
JLApe is a 1999 DC Comics Annual crossover. This template will categorize articles that include it into the JLApe crossover category.
Links and References
"You get right back here and finish this article, young man!"

History Section Needed!


The history section for this article is either absent or contains very little information. You can improve this article by adding as much relevant historical information as possible. Articles should be written from an "in-universe" perspective as if they were written by a historian living in the DC Universe.
(This template will categorize articles that include it into the "History Section Needed" category.)