JSA Vol 1 33
Talk

0
76,876pages on
this wiki

"Stealing Thunder, Part 1: Wish Fulfillment"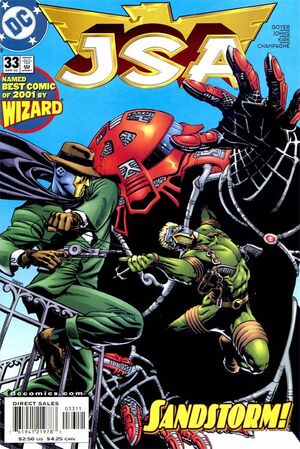 Appearing in "Stealing Thunder, Part 1: Wish Fulfillment"
Featured Characters:
Supporting Characters:
Villains:
Other Characters:
Locations:
Items:
Vehicles:
Synopsis for "Stealing Thunder, Part 1: Wish Fulfillment"
Last Time, in The Life of Sand: Our Silicate Super-Hero Finds himself in a Faceoff with Black Barax, the Time Bandit! With the help of his wise old mentor, Wesley Dodds, our hero faces the Chrono-Crumb in the latest of his dastardly schemes - !
Sand is brought to in a canister by Icicle. The villain explains the building they are in is full of canisters, containing almost every metahuman on Earth, where they are put through a VR simulation to stimulate and placate them. A glitch seems to have freed Icicle, and he tried to free the villain Geomancer, but the system responded by killing Geomancer. Icicle decided to try again, guessing that Sand's inhuman biology would protect him.
Shocked at Icicle's callousness, Sand nevertheless helps the man escape. On the street, they are surprised to find a world of shockingly advanced technology. They also see Black Lightning facing off against a team called the Thunderfront, composed of brainwashed superheroes.
Directed into the sewer tunnels by a friendly figure, they follow along until Icicle unmasks their ally - Jakeem Thunder. Thunder fills them in: he handed the pen containing the Thunderbolt genie over to Johnny Thunder, but it was actually the Ultra-Humanite in disguise. Ultra could not order Jakeem affected by anything the genie did, but he changed the entire world by magic, placing himself in command, with a citadel powered by Sentinel's Starheart, a palace guard of white gorillas, and the Thunderfront to deal with rebels. No-one has been able to stop him yet... but from a secret base in the sewers, Jakeem Thunder is going to try. He freed Icicle... to join his band of allies, the New JSA.


Notes
Black Barax first appears in the Savage Times arc. His presence in Sand's simulation is probably down to Sand's prophetic dreams.
Trivia
See Also
Recommended Reading
Links and References


This comic page is missing characters!
This comic page is missing one or more character appearances. If you find any characters that appear in this issue but are not included on the page, please add them to the Appearances list of the comic issue template.
(This template will categorize articles that include it into Category:Missing Characters.)