Joker (The Batman)
Talk

0
80,642pages on
this wiki
History of character is unknown.

Powers and AbilitiesEdit
Powers
Abilities
Inventive Skill: The Joker commits crimes with countless "comedic" weapons (such as razor-sharp playing cards, acid-spewing flowers, cyanide pies, and lethally electric joy buzzers) and Joker venom.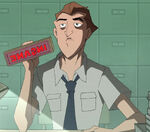 Genius Level Intellect: The Joker is also very skilled in the fields of chemistry, genetics, and nuclear engineering. He also seems capable of mastering whatever he puts his twisted mind to when he wants to.
Skilled Martial Artist: The Joker also moves and fights with a Monkey Kung Fu-like style using his feet as dexterously as his hands, and often hangs from the walls and ceilings (as the series progresses, these abilities do not appear as much).
Weaknesses
ParaphernaliaEdit
Weapons
His weapons included card-shaped blades, guns (of the trick and real variety), joy buzzers (which electrocuted the victim), and a wide variety of laughing gases (which incapacitated the victim with laughter). Most famously, the Joker had a flower attached to his suit. This flower emitted a wide variety of chemicals, depending on the situation and the Joker's mood. Laughing gas and acid were popular variants, but the possibilities were limited only to the Joker's mind.

Joker's line expressing how men are easily driven insane and how he became what he is after only 'one rotten day' is based off a monologue about the entire world in comparison to the Joker in Batman: The Killing Joke.
The design and concept of Joker with Bane's venom module strongly resembles and may have inspired the Titan Joker design for Batman: Arkham Asylum.
The long dreadlocked hairstyle of Joker is inspired by the Jester's Hat, which are quite associated with The Joker or even The Fool.
Related
Discover and Discuss
Footnotes