Jonah Hex Vol 2 10
Talk

0
80,167pages on
this wiki

"Gator Bait"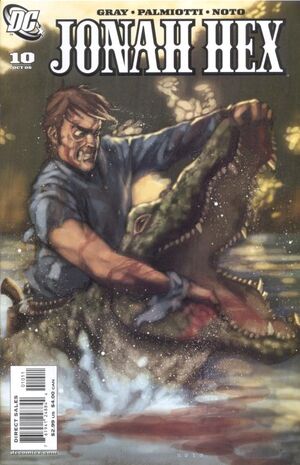 Previous Issue
Next Issue
Rest easy. They'll pay in blood for what they did to you and yours.

-- Jonah Hex
Appearing in "Gator Bait"
Featured Characters:
Supporting Characters:
Constable (Single appearance)
Villains:
Andy Lamont (Only appearance; dies)
Dean Lamont (Only appearance; dies)
Dewey Lamont (Only appearance; dies)
Flint Lamont (Only appearance; dies)
Jethro Lamont (Only appearance; dies)
Ma Lamont (Only appearance; dies)
Other Characters:
Locations:
Items:
Vehicles:
Synopsis for "Gator Bait"
In a swamp in Louisiana, a family living there, tosses a couple bodies to the alligators in the swamp. They mention how a black man escaped from them, but they still have his white wife, who they decide to keep.
In a nearby town, the aforementioned black man rides into town and falls from his horse. He sees Jonah Hex standing nearby and calls to him for help, explaining that some folks in the swamp grabbed him, his best friend, wife and baby and that he thinks they may all be dead. The man gives Hex a deed to some land in Oklahoma, where they were traveling when the swamp folks got them. Hex tells the man the swamp folk will pay for what they have done.
Hex convinces the sheriff to put a bounty on the family living in the swamp and then heads into the swamp to kill them. He is caught by one of the family, Dean Lamont and taken to the Lamont home. Hex is introduced to the family and told to sit on the rail directly in front of the swamp. Already, alligators are gathering in anticipation of their next meal. Instead of waiting to be pushed, Hex grabs Ma and Pa Lamont and pushes off into the swamp, taking them with him. Hex takes Pa knife and stabs the man in the chest. The blood draws the alligators while Hex swims away. Dean shoots his brother Dewy by mistake and the other Lamonts go inside to grieve. They decide to amuse themselves with the woman they took captive the previous day. As they are preparing to do so, Hex walks into the house and starts killing everyone. Once he is done he takes the woman out of the house and sets the house afire. He then asks her to turn and look at the house. Then Hex gives the woman the deed to the land in Oklahoma that her husband had given him.


Notes
Trivia
Related Articles
See Also
Recommended Reading
Links and References
Comicbookdb.com]