Jonathan Dubrovny (New Earth)
Talk

2
79,940pages on
this wiki

Status
Characteristics
Origin
Described by The Chief as a "genius bio-chemist who suffered a mental collapse". Mr. 103 first appeared in Midway City robbing banks, using his ability to transform his body, or parts thereof, into any element of his choosing.
The Chief theorized that Dubrovny had been experimenting with teleportation, requiring the separation of a man's body into its component elements. He developed a machine which can emit a ray beam capable of bestowing the ability to change into the elements.
The Chief shockingly declares the Doom Patrol to be a failed experiment and disbands the team, but Negative Man reorganizes the trio in a new headquarters. Failing to stop the shape-changing maniac, the Doom Patrol returns to the Chief for help, only to find him dying of radioactive blood poisoning. Knowing he was doomed, he had deliberately severed relations with the team, hoping they would try to succeed without him.
Now he enables them to defeat Mr. 103, using a ray based on an extraterrestrial element. Negative Man then forces the captured villain to use his transformation process to cure the Chief's illness.[1]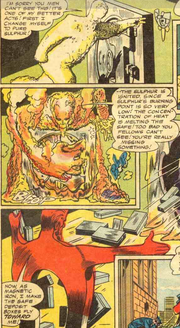 Powers and AbilitiesEdit
Powers
Related
Discover and Discuss
Footnotes


Doom Patrol Villain(s)
This character, team or organization, is or was primarily an enemy of the Doom Patrol at some point in their career. This pertains to all incarnations of the Patrol throughout history. Including but not restricted to their arch-enemies the Brotherhood of Evil. This template will categorize articles that include it into the category "Doom Patrol villains."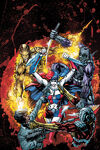 Suicide Squad member
This character is or was a member of the Suicide Squad, a team of imprisoned super-villains who perform high-risk missions for the U.S. Government in exchange for commuted sentences, in any of its various incarnations. This template will categorize articles that include it into the "Suicide Squad members" category.