Justice League International Vol 3 1
Talk

0
84,341pages on
this wiki

"The Signal Masters, Part One": The UN assembles a team of international heroes to find out what happened to some missing explorers in Peru. Booster Gold is picked to lead, which upsets Guy Gardner and spurs him to walk out. Batman is suspicio
"
The Signal Masters
, Part One"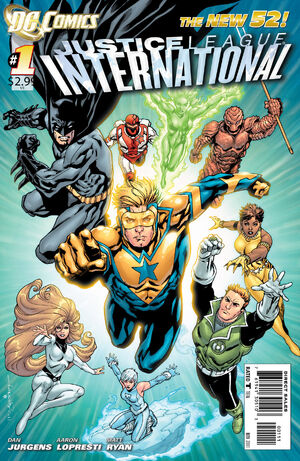 Previous Issue
Next Issue
—
Let me be perfectly clear: I have never, ever let my name or likeness be used to sell adult diapers.

-- Booster Gold
Featured Characters:
Supporting Characters:
Villains:
Other Characters:
Locations:
Items:
Vehicles:
The UN assembles a team of international heroes to find out what happened to some missing explorers in Peru. Booster Gold is picked to lead, which upsets Guy Gardner and spurs him to walk out. Batman is suspicious of the UN's motives for assembling the team and tries to convince Guy to stay, but Guy refuses and leaves. Since they are short-handed, Batman joins them on their jet flight out to Peru, unbeknownst to the team's UN bosses. When they arrive, they briefly battle some rock creatures that emerge from underground and defeat them. Suddenly, a giant robot that has been waiting underground bursts upwards scattering the team.


Notes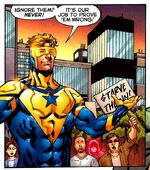 The mysterious Pandora makes an appearance to witness the events in this issue, as she can be seen in all of the #1 issues published as part of The New 52. She is standing behind Booster Gold among the protesters when he is inducted into the League.
Trivia
See Also
Recommended Reading
Links and References