Justice League Vol 2 7
Talk

0
79,896pages on
this wiki

"
The Villain's Journey
: Prologue"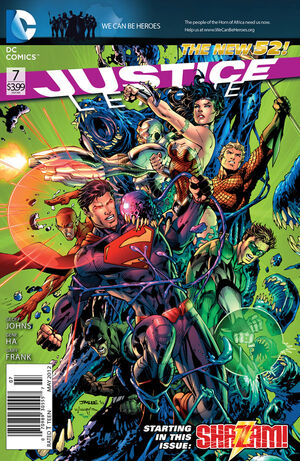 "Shazam!"
Previous Issue
Next Issue
You want to know a secret, dirtbag? This suit is my costume. It only makes me look civilized.

-- Steve Trevor
Featured Characters:
Supporting Characters:
Villains:
Other Characters:
Locations:
Items:
Vehicles:
In Baltimore, Maryland, a multitude of horrible purple monsters attack the crowd screaming "Go away!". Colonel Steve Trevor and his soldiers are trying to stop the flux of creatures by shooting them, when suddenly the Justice League come out from a Boom Tube calming down the people. They kill most of the monsters and then discuss about their main target: his name is Samuel Street who was infected by the "Spore" virus while he was delivering it to the A.R.G.U.S.. An unknown intruder had entered the dark room stealing the Ra Sphere and meanwhile he attacked the professor, and that's why he got infected. After a short discussion, the group finds the house where Spore is hidden with is ex-wife he doesn't want to leave. As a team, they defeat the monster with no problems.
An hour later, colonel Steve Trevor hold the conference about what had happened. The journalists show their enthusiasm for the Justice League asking why superheroes don't take control of all the institutions. Trevor gets angry as he feels useless, getting to assault a very insisting one. After this, he's obliged to take part in the Congress reunion. The Congress want to know more about the team, but he doesn't reveal anything stating that they have no more secrets than the Congress, so it's good for them not to reveal anything.
Later, Trevor does a video-call with the Justice League as he wants to speak to his beloved Wonder Woman. The other members of the team keep on interrupt them complaining about their problems. Trevor, upset, closes the call. Somewhere else David Graves writes that he was wrong about superheroes, they must die and the key to kill them is Steve Trevor himself.


Appearing in "Shazam!"
Featured Characters:
Supporting Characters:
Villains:
Other Characters:
Locations:
Items:
Vehicles:
Synopsis for "Shazam!"
Synopsis not yet written.
Notes
Trivia
In this issue Batman criticizes the Justice League International, insisting that they be shut down. This is a contradiction in comparison to their series, where he is a great supporter of the team and later agrees to bankroll their headquarters.[1]
See Also
Recommended Reading
Links and References