Justice League of America Vol 1 195
Talk

0
80,189pages on
this wiki

Previous Issue
Next Issue
Appearing in "Targets of Two Worlds"
Featured Characters:
Supporting Characters:
Villains:
Other Characters:
Locations:
Items:
Vehicles:
Synopsis for "Targets of Two Worlds"
Ultra-Humanite, the archnemesis of the Earth-Two Superman, who has the ability to transfer his genius brain into different bodies, and who is now in the body of a mutated giant ape, recreates the Secret Society of Super-Villains. He recruits villains from both Earth-One and Earth-Two as members: Cheetah, Signalman, Floronic Man, and Killer Frost from Earth-One, and Monocle, Mist, Psycho-Pirate, Rag Doll, and Brainwave from Earth-Two.
His master plan is to remove ten particular super-heroes of the Justice League and Justice Society from the multiverse, defeating them and hurling them into limbo, thus upsetting the cosmic balance and causing all super-heroes to be eradicated from one of the two parallel worlds.
Mist renews his battle against Black Canary (unaware that she is actually the daughter of the original Canary, whom he previously fought)[1], Monocle overcomes the Earth-Two Hawkman, and Cheetah takes her revenge on Wonder Woman.


Notes
This issue features a JLA/JSA pin-up by George Perez.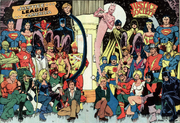 Trivia
See Also
Recommended Reading
Links and References