Justice League of America Vol 2 19
Talk

0
79,973pages on
this wiki

"Sanctuary: Part Three"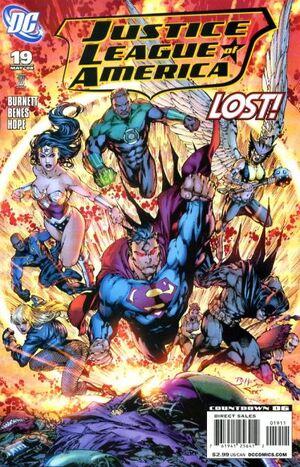 Previous Issue
Next Issue
Appearing in "Sanctuary: Part Three"
Featured Characters:
Supporting Characters:
Villains:
Other Characters:
Locations:
Items:
Vehicles:
Synopsis for "Sanctuary: Part Three"
The Justice League is preparing to travel to the planet Cygnus 4019, a planet where many of Earth's supervillains have been sent as part of a deportation program and find it deserted. They split into groups to cover as more ground as possible but everyone, except for Hawkgirl, is captured by some kind of energy which envelops them. Their captor is revealed to be Kanjar Ro. He reveals to the League that he has been monitoring Earth for some time and knew that the villains were going to be sent to Cygnus. Kanjar had waited to enslave them but the villains never arrived. Somehow they were diverted to another planet and all of Kanjar Ro's preparation had been wasted. When he learned that the Justice League was coming he knew that he had his chance at revenge. With Hawkgirl's help the League escapes and defeats Kanjar. They all return to Earth.


Notes
Trivia
See Also
Recommended Reading
Links and References