Justice League of America Vol 2 38
Talk

0
80,092pages on
this wiki

"Out of the Ashes..."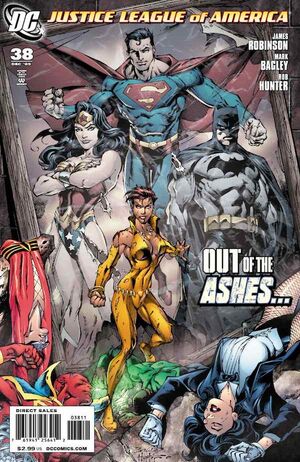 Previous Issue
Next Issue
Appearing in "Out of the Ashes..."
Featured Characters:
Supporting Characters:
Villains:
Other Characters:
Locations:
Items:
Vehicles:
Synopsis for "Out of the Ashes..."
Blue Jay finds himself under attack in the Justice League Watchtower. He manages to evade his attacker until finally he is hit with what appears to be a fatal blow. Meanwhile in Happy Harbor, Vixen, Dr. Light, Red Tornado and Plastic Man meet in the Secret Sanctuary to discuss the fate of the League. After their battle with Prometheus even Vixen's faith in the team is shaken. Suddenly Despero appears and attacks the heroes. He makes short work of the group until Zatanna shows up and bails them out. After Despero is taken care of Zatanna briefs the team on the current situation with dead heroes and villains coming back to life and tells them they need to get to the Watchtower as soon as possible.


Notes
Trivia
See Also
Recommended Reading
Links and References