Justice Society of America Vol 3 20
Talk

0
79,943pages on
this wiki

"EarthBound"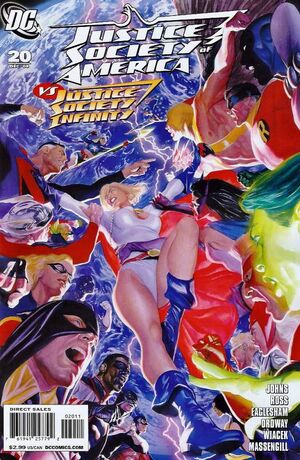 Previous Issue
Next Issue
I know a bit about Power Girl's future, Courtney. She's going to be better than okay. She's going to make the most out of her life -- both inside and outside the Justice Society.

-- Starman
Appearing in "EarthBound"
Featured Characters:
Supporting Characters:
Villains:
Other Characters:
Locations:
Items:
Vehicles:
Synopsis for "EarthBound"
Justice Society Infinity comes to the New Earth reality from Earth-2 and begins fighting the Justice Society of America. Earth-2's Power Girl wants to know where their version of Superman has disappeared to. She blames the New Earth (actually Earth-Two) Power Girl of trying to infiltrate their team and a fight breaks out. The Earth-2 Power Girl grabs mainstream Power Girl and her teammates and she escape back to their home dimension.
The Justice Society (Green Lantern, Stargirl, Flash, and Mister Terrific) follow them via Starman's gravity powers and they unprecedentedly arrive in the office of Earth-2's Michael Holt. New Earth's Michael Holt is shocked to see that his counterpart's wife, Paula, is alive and well on Earth-2.
Meanwhile, Earth-2's Huntress, Power Girl and Robin take Kara back to the Batcave where they proceed to torture her. Power Girl continues to press her about the whereabouts of her cousin, Superman. Kara believes that the Earth-2 Superman was the one who died during Infinite Crisis. Kara escapes capture and fights back against her angry Earth-2 doppelgänger. The rest of Justice Society Infinity show up to lend their teammate a hand, but cooler heads prevail when the rest of the Justice Society arrive. Alan Scott is startled to see that his daughter Jade is still alive in this reality.
Starman tries to illustrate how the Multiverse expands and contracts upon itself once every thirty-eight billion years. So although Earth-2 bears many similarities to the reality once known as Earth-Two, it also hosts significant differences. Ultimately, nobody is truly sure what happened to the Earth-2 Superman. Kara feels more alone than ever. The JSA console her and bring her back to New Earth.
After things quiet down, Alan Scott goes and talks to Michael Holt about David's death and resurrection, and asks a question he cannot believe—if Gog could resurrect David, could he do the same for Paula and Jade?


Notes
Issue includes ' editorial #137.
Trivia
This issue reveals that Starman's costume is actually a map of the Multiverse.
According to Starman, the universe expands and contracts every 38 billion years, which would imply that the multiverse would eventually expand beyond its current number of fifty two. It also explains why the universe has remained at 3600 sectors, as the universe hasn't expanded since the Guardians last charted it.
See Also
Recommended Reading
Links and References