Kara Zor-El (Prime Earth)
Talk

0
79,901pages on
this wiki
Looking for a different version of this character?
As a result of the 2011 initiative, the New 52, the entire line of DC characters was relaunched, incorporating properties belonging to the company's imprints: Wildstorm, Milestone, and Vertigo. As such, elements of this character's history have been altered in some way from the previous incarnation's. For a complete list of all versions of this character, see our disambig.
Kara Zor-El's pod from Krypton crash lands not in Kansas but in Russia. She stumbles from her craft only to be suddenly surrounded by gigantic armed robots who begin trying to subdue her. In an amazing display of power she shows off her strength, speed, defense, senses, heat vision, and screams until she is finally overcome by the robots and her own confusion of being on a distant unknown planet. With a blaster pointed to the back of her head she is finally saved by nothing less than a single word from Superman.[1]
Confused by her current situation and her new powers, Kara angrily demands to know why Superman is wearing her family's crest. When Superman identifies himself as her cousin Kal-El, Kara becomes enraged, thinking he is an impostor; in her mind she was holding baby Kal-El only the day before. Kara attacks Superman, only to become scared by her own new abilities, such as x-ray vision and flight. The two exchange blows all the way from Siberia to the Great Wall of China. After punching Superman through the Great Wall, Kara realizes her fight is endangering the people nearby and agrees to accept Superman's help adapting to her new life.
When Kara flies back to Siberia to search for the capsule, she's invited by Symon Tycho to his space station, where he tests her abilities and limits. Finally, he watches her being weakened by green kryptonite and captivates her in a tank near the kryptonite. However, an employee of Tycho helps Kara breaking out. Still not in the full control over her powers, Kara accidentally seem to destroy the whole space-station.

Powers and AbilitiesEdit
Powers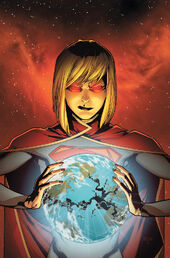 Kryptonian Physiology: Under the effects of a "yellow" sun, The average Kryptonian possesses the potential for the following power set:
Abilities
Supergirl is known as the Girl of Steel and the Girl of Tomorrow.[2]
Related
Discover and Discuss
Footnotes