Keystone City Locales
Talk

0
80,037pages on
this wiki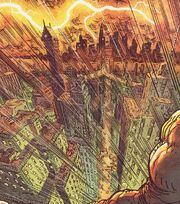 The following is a list of various points of interest that can be found in
Keystone City, Kansas
. Some of the events pertaining to this list may be exclusive to
Pre-Crisis
Earth-Two
continuity. In some cases however, events that originally transpired on Earth-Two may also be common to Earth-One continuity and New Earth continuity.
Contents: Top - 0-9 A B C D E F G H I J K L M N O P Q R S T U V W X Y Z
0-9
5252 78th Street
This is the home address of Jay Garrick and his wife Joan. For periods of time Bart Allen and J.J. Thunder lived here as well.
A
B
C
Carmody's Jewel Salon
On June 14th 1961, the Shade robbed Carmody's Jewel Salon. It was one of his first robberies following a lengthy prison sentence. [1]
D
E
F
G
H
I
J
Jarvis Mansion
The Jarvis estate was the home of a wealthy millionaire and the resting place of the valuable Neptune Cup. The Thinker once used his Thinking Cap to mentally force Jarvis' butler into giving him the Cup. Jay Garrick arrived to stop the Thinker, but the criminal was able to inacapacitate him with a wall of sheer mental energy. [2]
K
Keystone City Bank
The Thinker once used his Thinking Cap to hypnotize the staff at the Keystone City Bank, enabling him to rob the bank teller's drawers. The staff believed that they saw dollar bills leaping from out of the till and float away. [3]
Keystone City Museum
The Fiddler, the Shade and the Thinker once used their powers to force Jay Garrick and Barry Allen into robbing the Keystone City Museum. The Flashes were able to resist the power of the Fiddler's violin however by stuffing small gemstone into their ears. [4]
Keystone City Police Headquarters
In the 1940s, Jay Garrick made frequent stops at the KCPD to drop off various criminals. In later years, Wally West did likewise during the time that he spent operating in Keystone as the third Flash.
Keystone Motors
L
M
Midwestern University
N
O
P
Q
R
S
T
U
V
W
Western Heritage Museum
Contains historical records of the life and adventures of Jonah Hex, though the last several years before his death in 1904 are largely unrecorded. [5]
X
Y
Z
References
---