Komand'r (New Earth)
Talk

0
76,869pages on
this wiki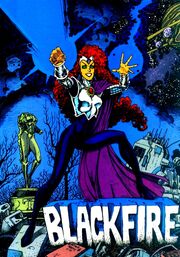 Komand'r was born the eldest child of Tamaran's royal family. The first princess born in over a hundred years, she should have been courted and showered with honors. On the day she was born the Citadel Empire attacked and destroyed the western Tamaranean city of Kysarr, killing three thousand citizens in her name. Though she was in no way at fault for what had happened Komand'r was for all time inextricably linked with that terrible day. To make matters worse, Komand'r had been born deformed by Tamaranean standards, unable to harness the solar energy to fly as most Tamarans did. Komand'r grew up hated by the Tamaran population, who denied her birthright and refused to allow her to be the next Princess of Tamaran. All of her privileges, honors, and celebration were later given to her younger sister, Koriand'r (who would later become known as heroine Starfire). Komand'r's rage grew inward, and whenever she could, her hatred for her planet was focused on her hapless sister.
Komand'r's rivalry continued and intensified when the siblings were sent for combat training with the Warlords of Okaara. Things came to a head during a sparring exercise in which Komand'r attempted to kill her sister. As a result, she was expelled. Komand'r swore vengeance and joined the Citadel, quickly rising through their ranks to becoming a traitor against her own planet. Komand'r later betrayed her planet with detailed information about Tamaran's defenses to the the Citadel. They conquered Tamaran with ease, and the surrender conditions included the enslavement of Koriand'r. Koriand'r was also never permitted to return to Tamaran, since it would mean the Citadel would devastate the planet for Tamaran's abrogation of the treaty.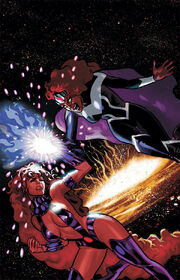 Komand'r was made her sister's master and made the most of the bondage with years of horrific servitude and torture. When Kory killed one of her rapists, Komand'r decided to execute her as punishment, but before getting the chance, the sisters were attacked and captured by the Psions. The Psions, largely a species of sadistic reptilian scientists, performed a deadly experiment on both of the sisters to see how much energy their Tamaranian physiologies could absorb before exploding from the overload. Before the procedure could be completed, Komand'r's Citadel forces attacked the Psion ship to rescue her. While the Psions were distracted, Kory broke free with starbolts, destructive blasts of solar energy directed from her hands, which were a result of the Psions' experimentation. Against her better judgment, she decided to free Komand'r, who was still absorbing energy. However, far from grateful, Komand'r struck her sister down with the same (but more intensified) starbolts and had her restrained for later execution. Kory escaped and stole a space ship to escape to planet Earth, where she met a young group of heroes and helped form the New Teen Titans.
DCnU


The DC Universe heavily changed its continuity into the DCnU following the events of Flashpoint in 2011. This was part of an effort to make storylines more accessible to newer readers, beginning with the New 52. This new timeline combines elements from the DCU, Vertigo Universe and Wildstorm Universe while drastically changing the origins and histories of characters.

After Flashpoint, it was said that Komand'r sold her sister, Koriand'r to save Tamaran, which was taken over by the Blight. Koriand'r was angrily bitter towards her sister and the people of Tamaran for her enslavement. After Kori fought her way free, she was praised as a hero and Kom gave her a ship to leave Tamaran but that wasn't enough to repair the rift between them. When Roy Harper was captured by the Blight, Kom visited him in his cell and appears to be working with the Blight. Roy's capture was revealed to be a mission to rescue Komand'r and Roy takes her and teleports back to Koriand'r and Jason Todd. The two sisters reunite in a teary conversation and Kori forgives her sister. The four of them work together to take back Tamaran. They return to Tamaran in Kori's ship, they fought the Blight's soldiers alongside some of the Starfire's crew members. When Kom gets stabbed in the back with a spear by the Blight leader, Kori's emotions overwhelmed her and she unleashes an energetic shock wave that wipes out everything in sight. When the smoke clears, Kori holds the defeated Blight leader. After the battle, Kom asks Kori to stay but Kori refuses and wants to return to Earth with Jason and her boyfriend, Roy. After bidding her sister farewell, Kom gives her and her companions a ship to return to Earth.

Powers and AbilitiesEdit
Powers
Tamaranean Solar Absorption: Blackfire's alien physiology constantly absorbs ultraviolet radiation and converts it to energy. She can then channel this energy as destructive blasts called "starbolts".
Abilities
Blackfire is a brilliant tactician, a merciless leader, and is expertly trained in hand-to-hand combat.
Strength level
Blackfire possesses superhuman strength--the uppermost level of which is not known as yet. Presumably, her strength levels are equitable to that of her sister, Starfire.
Weaknesses
Unlike her sister, Blackfire does not possess the ability to fly, though she has compensated for this limitation through scientific means (In the Teen Titans animated series, Blackfire was able to fly of her own volition).

ParaphernaliaEdit
Weapons
Various highly advanced weapons of Okaaran design

Recommended ReadingEdit
Related ArticlesEdit
Related
Discover and Discuss
Footnotes