Lex Luthor (Super Friends)
Talk

0
85,197pages on
this wiki
Lex Luthor was a brilliant scientist who admired Superboy and had even developed an antidote for Kryponite. However, when a fire broke out in Luthor's lab, Superboy used his super-breath to put out the fire. Unfortunately, the chemicals in the lab caused Luthor's hair to fall out permanently, which he blamed on Superboy, claiming that he was jealous of Luthor's genius. He constantly contended with Superboy even into adulthood when the latter became Superman, and became the main villain of the Super Friends, plotting various schemes both by himself and with the Legion of Doom to destroy both them and his main nemesis Superman.

Powers and AbilitiesEdit
Abilities
Related
Discover and Discuss
Footnotes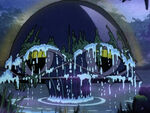 Legion of Doom member
This character is or was a member of the Legion of Doom, a team of supervillains culled together for the purpose of conquering the world and defeating the Super Friends, in any of its various incarnations. This template will categorize articles that include it into the "Legion of Doom members" category.