Mekt Ranzz (New Earth)
Talk

0
76,877pages on
this wiki
A solo person on a world where twin birth is a norm, Mekt was treated with pity and fear and became suicidal. The other people in his school used to say that Validus, the Lord of Lightning, was Mekt's true father. He became a part of a cult that worshiped Validus. The cult had a prophecy that a certain solo would bring Validus to Winath in the flesh, but on the planet Korbal. While near the Korbal, they crash-landed because his siblings Garth and Ayla had followed him. Ayla suggested that they could use the local lightning beings to recharge the ships batteries. But the siblings were attacked and lapsed into coma of massive electrocution. They discovered later that they had gained electrical powers.
The Wanderers were a group of "black ops" superheroes created by the Earthgov. All of them, but Mekt, were killed fighting the Dominators (who had began a war against the United Planets). Mekt searched the galaxy to create the new Wanderers and found Polar Boy, White Witch, Inferno, Plant Lad and others. The Wanderers manipulated the Legion of Super-Heroes into freeing Mon-El from the Phantom Zone and giving him the lead antitoxin, but when that was done, Star Boy, Karate Kid, Ultra Boy, Light Lass and Mon-El were teleported to the Wanderers.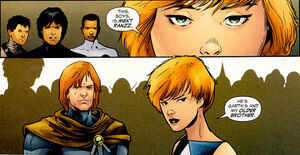 After the final battle against the Dominators, Mekt was surprised that Cosmic Boy was planning to cause the entire Dominator homeworld to explode with a bomb that Brainiac 5 built. Both Mekt and Supergirl were willing to deliver the bomb to the planet's core, but Cosmic Boy decided that Mon-El would deliver it. Mon-El agreed, but Mekt did not. The bomb was in fact not an actual bomb, but rather an extremely powerful Phantom Zone projector. Cosmic Boy was going to wait to tell the rest of the Legion about it until Mekt and the Wanderers would go away from Earth, in fear that Mekt would try to retrieve Mon-El himself, without any thought of retrieving something else. However, because Cosmic Boy disappeared, the Wanderers stayed a little longer than planned. Mekt was picked to one Cosmic Boy-search team together with Star Boy and Sun Boy, and they were going to Winath. There, after a series of dramatic events, Mekt had one of his fingers bitten of by Tenzil Kem and was arrested for murder, attempted murder of a government official (as Tenzil Kem was a persecutor appointed by the United Planets to investigate Cosmic Boy's possible war crimes) and mind control (as he had let Vrax Gozzl control the minds of certain Winathians).

Powers and AbilitiesEdit
Powers
Electrical Generation: Lightning Lord has the power to generate even greater voltage than the lightning creatures. He controls his energy by sending oppositely charged ions down his arms to his hands. Like the positive and negative poles of a battery, the resulting electric field causes lightning bolts to shoot forth from his fingertips to the target he is aiming at. His electrical bolts are stronger, in raw power, than his sibling's electrical powers.
Electrical Manipulation: Lightning Lord has the ability to manipulate electrical energy, which is often referred as "lightning". Lightning Lord can use his power destructively, to short-circuit electrical items, split boulders, destroy spaceships, burn objects with precision or shatter walls. He can also reduce the force of his bolts so that they will only stun a person or creature. He can send his electricity through conductive metals. The more powerful his bolts, the louder the thunder-noise they make, especially if they are directed skyward.

ParaphernaliaEdit
Equipment
Related
Discover and Discuss
Footnotes

This character is exclusive to the continuity of the Supergirl and the Legion of Super-Heroes and 5th Legion of Super-Heroes series.
Any official designation for the home universe for this character has not been given, and thus this page may have to be moved in the future.
In the meantime, it's conjecturally designated as "New Earth".