Looking for a different version of this character?
As a result of the 2011 initiative, the New 52, the entire line of DC characters was relaunched, incorporating properties belonging to the company's imprints: Wildstorm, Milestone, and Vertigo. As such, elements of this character's history have been altered in some way from the previous incarnation's. For a complete list of all versions of this character, see our disambiguation page.
This is the second time you've run from me. You're not king. More of a court jester.

-- Robin
History
Nanaue is the offspring of the Hawaiian shark deity Kamo. After Kamo was captured on a tropical island by Amanda Waller, she also took one of his offspring with her before destroying the island, assuming that the child would be easier to control than the father. The child was Nanaue, who was raised by Waller in laboratory conditions, and grew at an extremely fast rate.[2]
Nanaue at some point made it to Atlantis, where he hopes to become the next big crime boss.[3]

Powers and Abilities
Powers
Abilities
Notes
Trivia
Related
Links
Footnotes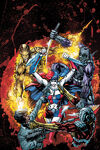 Suicide Squad member
This character is or was a member of the Suicide Squad, a team of imprisoned super-villains who perform high-risk missions for the U.S. Government in exchange for commuted sentences, in any of its various incarnations. This template will categorize articles that include it into the "Suicide Squad members" category.