New Deadwardians Vol 1 1
Talk

0
79,943pages on
this wiki

"The New Deadwardians, Part I"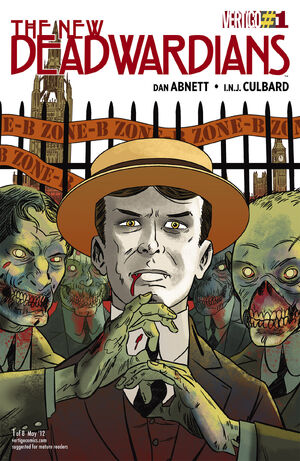 Previous Issue
Next Issue
—
Appearing in "The New Deadwardians, Part I"
Featured Characters:
Supporting Characters:
Roper
Mrs. Suttle
Chief Superintendent Carstairs
Doctor Ambler
Villains:
Other Characters:
Mrs. Hedley (Dies)
Constable Minton
Barton
Locations:
Items:
Vehicles:
Synopsis for "The New Deadwardians, Part I"
Chief Inspector George Suttle doesn't sleep anymore, which is not to say that he doesn't try. Every night, he lies in bed and waits for it to come, but it doesn't. His kind are meant to live for the night, but George Suttle cannot bring himself to give up his routine.
One night, he is roused from bed by a strange sound. Heading into the hallway, he assumes that his man Roper is up making these noises. However, when Roper appears behind him in a state of confusion, George becomes aware that there is something downstairs. He and Roper investigate the kitchen to find that, to their horror, Mrs. Hedley's innardsare being eaten by one of the undead creatures known as The Restless. Quickly, George has Roper call on the patrol, and then pins the creature to a table with a carving knife. Taking out his rifle, he fires a shot through its head just as the patrol arrives.
Upon seeing the situation, the patrol sets up a Zone-B for the street while the scene is cleared. The police ask George about his gun, and he responds that it is his service weapon from the Memorial War, adding that he is actually a policeman himself, in the department of homicide. After ensuring that the police have taken care of Mrs. Hedley and The Restless, George begins investigating the rest of the house for others.
He comes upon his maid Louisa in a state of panic, having hid herself in a closet. He attempts to comfort her as she explains that the Restless may have got in through an unlocked back door. George considers this unusual, given that Roper is usually too thorough for that. He realizes, suddenly, that Louisa was bitten. Though she is afraid that she will die or become a Restless, George assures her that he will accompany her to the clinic to be administered the cure. He is overdue for his own treatment anyway.
As they ride into town, George muses that sunlight is not as big a problem as one might expect, given appropriate application of zinc and the wearing of a hat. Meanwhile, he doesn't need breakfast - he simply misses the notion of it. Louisa asks him what it was like before the Restless curse came. He responds that the streets were much busier then, and there were more birds about. Since then, they have stayed away. The Restless tend to eat them, and they avoid the Young, too. George considers that it hard for him to remember that members of the Bright like Louisa don't remember the empire before the curse and the war; before the Deadwardian age.
George drops Louisa off at the clinic, promising that the cure is painless. He sees his own doctor, turning down dental attention, as his teeth were filed back the week before last. Likewise, he is not having any of the associated tendencies.
After his arrival at Scotland Yard in his office, George receives a visit from Chief Superintendent Carstairs, who inquires about the incident from earlier that morning. He offers his recommendation for a first class staffing agency to replace Mrs. Hedley. They are interrupted by a man named Barton who reports that a body was found on the embankment by the Houses of Parliament - an actual murder. This is unusual, as murders are scarce these days, and George is the only remaining member of the homicide squad.
George arrives at the scene and determines that to dump a body in front of Parliament is a bold move. Up on the overlooking bridge, a crowd of protesters disputing the existence of Zone-B have congregated. George instructs a policeman to keep the protesters away from the crime scene.
The coroner, Dr. Ambler, points out that the corpse is a white male in his 40s. He is naked, and his right hand was removed post-mortem. There is little evidence for the cause of death, though there appear to be some burn marks on his neck. George points out that there is more to this body than appears, noting that the Restless left it alone all night. Also, there is evidence that the victim had been filing his teeth. He was one of the Young. Ambler is incredulous, pointing out that none of the three methods for killing the Young were used. George admits that while he can't explain how the man was killed, someone has somehow managed to murder that which was not alive.


Notes
Trivia
See Also
Recommended Reading
Links and References