New Deadwardians Vol 1 3
Talk

0
80,010pages on
this wiki

"The New Deadwardians, Part 3"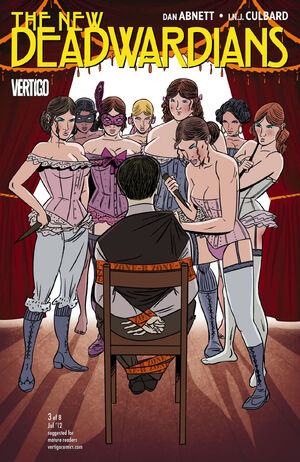 Previous Issue
Next Issue
Appearing in "The New Deadwardians, Part 3"
Featured Characters:
Supporting Characters:
Villains:
Other Characters:
Locations:
Items:
Vehicles:
Synopsis for "The New Deadwardians, Part 3"
Following his leads, Chief Inspector George Suttle heads in to Zone-B, where the Bright live in the East End of London. This is also where the establishment that Lord Hinchcliffe was known to have gone is located. As George and his Bright chauffeur enter Zone-B, they pass a crowd of Restless, trapped behind the barriers. George muses that he and they are not so different. Since being given the cure, he is just as dead as they are - if less unpleasant to look at.
Against his driver's warnings, Suttle enters a Thirsty House by himself, hoping that it is where Hinchcliffe went. Thirsty houses are establishments where prostitutes service the Young, and sometimes even allow themselves to be bitten, in order to assuage their clients' "tendencies". One of the girls recognizes George as a policeman and urges him to choose her, so as not to get himself into trouble.
The girl is seductive, but George finds that his libido is quite absent, since he was cured. She understands that he wants information, and obliges. She recognizes the photo he shows her of Hinchcliffe, but explains that the strength of his tendencies required that he be banned from the establishment, after biting too violently. She mentions an artist he had been associated with, and gives him an address to look into.
Again, against his driver's warnings of gangs of Quenchmen, George opts to investigate the artist's studio on his own. An old man nearby points out that the artist has not been around for some time, and suggests that George try asking someone down the hall. On his way out, George is stopped by a gang of Quenchmen who don't take kindly to the Young. They care nothing for his claims that he is a policeman.


Notes
Trivia
See Also
Recommended Reading
Links and References