Batman: Order of Beasts
Talk

0
80,037pages on
this wiki

"Order of Beasts"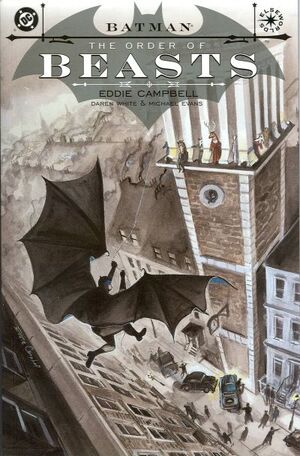 Appearing in "Order of Beasts"
Featured Characters:
Supporting Characters:
Villains:
Mr. Badger (Edward Boothby) (Dies)
Mr. Dog (Winston)
Mr. Eagle (Clyde Holroyd-Rath) (Dies)
Mr. Goat (George Fenton)
Mr. Hare (Rodney)
Mr. Horse (Freddie Hathaway) (Dies)
Mr. Stag (Sir Rowney Fairfax)
Mr. Weasel (Monty Kidman)
Mr. Wolf (Leonard Miller) (Dies)
Other Characters:
Alf Williams
Arthur the Butler
Edyth Fairfax
Rector
Scotland Yard
Locations:
Items:
Vehicles:
Synopsis for "Order of Beasts"
Shrouded in mystery, a secret society convenes with the supposed purpose of bringing new leadership to wartime England. One by one, its members are found murdered, the killings oddly but subtly connected by a thread only the Dark Knight can see... The mystery unfolds in BATMAN: THE ORDER OF BEASTS, a 48-page Prestige Format Special painted by Eddie Campbell (From Hell) and co-written by Campbell and Darren White. Campbell tells the story of a young Batman who must hone his new detective skills while using them to penetrate the veil surrounding the Order of Beasts. But can he discover the identity of the murderer while navigating the nighttime landscape of a city that's unfamiliar to him?


Notes
Trivia
See Also
Recommended Reading
Links and References
Elseworlds

This comic issue, event, or limited series takes place in its own separate continuity as an Elseworlds story; although it may exist within a larger Elseworlds continuity as part of its series. This includes both titles with the Elseworlds Logo, and titles retroactively declared as Elseworlds Stories. This template will categorize articles that include it into the Elseworlds category.