Outsiders (New Earth)
Talk

12
80,661pages on
this wiki

Affiliations
Alfred Pennyworth, Arsenal, Atomic Knight, Batgirl, Captain Boomerang, Captain Marvel, Jr., Catwoman, Creeper, Dervish, Doctor Light, Eradicator, Faust, Francine Langstrom, Green Arrow, Huntress, Indigo, Jade, Martian Manhunter, Nightwing, ReMAC, Shift, Starfire, Technocrat, Terra, Windfall, Wylde
I never wanted men to imitate me -- only fear me!

--Batman
History
The Outsiders are a team of super-heroes not concerned with public appearance. They were organized by Batman to go where the Justice League could not for political reasons. The group has had many incarnations over the years under a variety of leaders.
Origins
There is a revolution in Markovia and Lucius Fox is kidnapped on a business trip. King Viktor Markov dies, passing the throne to his heir Gregor Markov. Batman asks the Justice League to launch a rescue mission, but they refuse because the U.S. Government asked them not to intervene. Batman angrily quits the League and launches his own undercover mission with Black Lightning posing as Fox's brother. Black Lightning is imprisoned when a mysterious swordswoman named Katana assassinates his contact General Karnz. Batman meets an amnesiac energy-wielder who he names Halo, and enlists her to help him. Prince Brion Markov has scientist Helga Jace give him super-powers like his sister Terra, to fight for his people. Metamorpho is also visiting Jace to ask for help, but the three are attacked and captured by insurgents. Batman is captured by the same insurgents, and it's revealed that their captor is a villain named Baron Bedlam.[1] Bedlam explains that his father was a wartime ruler installed by the Nazis, and he is claiming his birthright. They break out of prison with the help of Katana, who explains that Karnz murdered her only love. The heroes group together to stop Bedlam, who has used Jace to gain super-powers. There is a massive battle between the opposing militaries, and Prince Brion returns to defeat Bedlam as Geo-Force. In the aftermath, Batman suggests that the six of them become a team. Metamorpho wonders if a "buncha outsiders" like them could work together, and Geo-Force decides they will call themselves the Outsiders.[2]
Batman and the Outsiders
Batman takes the Outsiders to Gotham City. They're introduced to Alfred Pennyworth at Wayne Manor and told that Bruce Wayne is Batman's secret financial benefactor. They establish their own headquarters in the luxury penthouse atop Wayne Tower. Their first case is a terrorist named Agent Orange who tries to drop chemical weapons on Gotham.[3] Agent Orange dies by suicide bomb while in custody, but the Outsiders prevent any civilian casualties.[4] The nuclear villain Meltdown escapes from Blackgate, but they discover his warden was guilty of human rights abuses.[5] The Outsiders visit New York City when Helga Jace is kidnapped, and mistakenly battle the Teen Titans. Both groups team up when they realize the Fearsome Five is forcing her to make an army of dirt monsters.[6] Psimon mind-controls everyone in the city to attack the heroes. They defeat him with help from Jace.[7] There's a series of hospital organ transport robberies, and the Outsiders locate a villain named Cryonic Man.[8] It's revealed that Cryonic Man's family was cryogenically frozen in the 50's, and they kill him when they realize his crimes.[9] Phantom Stranger assists the Outsiders when Tannarak begins stealing life energy from Gotham's babies.[10]
Recurring foes are the Masters of Disaster (New Wave, Shakedown, Windfall, Heatwave and Coldsnap), who at one point are almost able to kill Black Lightning. Windfall becomes disenchanted with her team and joins the Outsiders. Similar recurring opponents are the Force of July, a group of patriotic metahumans who also regularly came into contact with the Suicide Squad. During this time, Geo-Force's sister Terra dies as a traitor to the Teen Titans. Batman reveals his real identity as Bruce Wayne to the team, although they have already learned it. Eventually, the origin of Halo is revealed, and Emily Briggs (who during a later adventure becomes the superheroine Looker and joins the team) is introduced. Denise Howard, the love interest of Geo-Force also appears for the first time.
Adventures of the Outsiders
Baron Bedlam later returns to life. With the assistance of the Masters of Disaster and Soviet forces, he again tries to retake control of Markovia. Batman withholds this information, angering the rest of the team. This eventually leads to Batman disbanding the team and returning to the Justice League. The team nonetheless travels to Markovia, discovering many Markovian military casualties. They are defeated by the Masters and learn that Bedlam has cloned Adolf Hitler. The younger clone commits suicide in horror of the actions his original self perpetrated. The Outsiders become unofficial agents of Markovia, so that they receive Markovian funding. The team moves to Los Angeles, as Geo-Force leaves behind his girlfriend Denise and Looker separates from her husband.
Los Angeles
The team have moved into a new headquarters in Los Angeles, and once again become involved in an adventure with the Force of July, ending in Moscow. Villains such as the Duke of Oil, and the Soviet superteam the People's Heroes are introduced during this time. The team's adventures take them all over the globe, most notably when the Outsiders' plane is shot down and the team is marooned on a deserted island for three weeks. Tensions rise as Geo-Force tries to resign his leadership and he and Looker give into temptation. Eventually, they are found and are able to leave. Even more troubles arise when a detective is hired to look into Looker's private life (now working as a model under the alias of Lia Briggs), who learns of her actual identity of Emily. The detective tries to blackmail her, but she hypnotizes him, and he leaves. However, he is shortly killed afterwards and Looker is arrested. The Outsiders however are able to clear her name.
Reuniting with Batman
The Outsiders are reunited with Batman when they band together to fight Eclipso. After the adventure Batman gives them access to a Batcave situated in Los Angeles, and the team is also infiltrated by the clone of Windfall. Meanwhile, Looker and Geo-Force feel guilt over their affair and eventually call it off, and Metamorpho faces his own personal problems with his lover Sapphire Stagg. The clone of Windfall is ultimately killed and the Masters of Disaster are defeated as the real Windfall joins the team. The team also come in contact with the other Los Angeles based team, Infinity, Inc.
Millennium
The team is next involved with the company wide crossover event Millennium, wherein it is revealed that Dr. Jace is an operative of the villainous Manhunters and kidnaps the team. The team, now also joined by the Atomic Knight, are able to free themselves, but Dr. Jace blows up both herself and Metamorpho. Looker is called to return to Abyssia, the origin of her powers, where she must also face the Manhunters. During the course of the adventure, she is drained of much of her power and returns to her normal form. Halo is hit in crossfire, saving Katana's life, and slips into a coma, as Katana vows to look after her. The team is disbanded by Geo-Force as Looker returns to her husband, and Batman has since rejoined the Justice League.
Traitors
Declared a traitor in his native Markovia, Geo-Force is forced to seek the help of old and new Outsiders to battle the vampire lord who controls his country. This is later coupled with the framing of the Outsiders for the slaughter of a Markovian village, and thus the Outsiders are forced into hiding. This fugitive status motivates the Atomic Knight to go after the Outsiders, hoping to bring in his former allies without too much trouble. He's eventually convinced of their innocence and joins them at a later juncture.
The new members who join the team in Markovia are the magician Faust, the warsuit-wearing engineer and industrialist Technocrat, and Wylde, a friend of Technocrat's who has been turned into a mountain bear by Faust's uncontrollable magic. During the initial confrontation with the vampires, Looker is apparently killed. Hiding out in Gotham City, the Outsiders take another loss, as both Halo and Technocrat's wife Marissa are killed. This happens during a fight with 'Batman', or rather the man standing in for Bruce Wayne: Jean-Paul Valley. However, Halo's spirit survives in the reanimated body of Marissa. For some time afterwards, Technocrat has trouble accepting that his wife is dead; after all, her body is still walking around but the spirit is that of Halo. Eventually, it turns out that Looker is not dead, but undead. The Outsiders find her and free her from the vampire king's control.
Split
After the defeat of the vampires, two teams, (one composed of Geo-Force, Katana, Techonocrat and Wylde and another composed of the Eradicator, Looker, Halo and Faust), claim the name the Outsiders, even though both teams are still considered fugitives for some time, thanks to some questionable tactics by their new members. During this time, the teams learn that Halo's original body has been brought back to life by the Kobra terrorist organization. In control of the body is Violet Harper, the evil woman whose body Halo originally inhabited. She now has abilities similar to Halo's and ends up calling herself Spectra, and joining Strike Force Kobra alongside Dervish and Windfall. Both Kobra and Violet Harper are defeated. The two teams unite to confront Felix Faust, father to the Outsider Faust. During the confrontation, the bear-like Wylde betrays the team when Felix promises to restore his humanity. The team is able to defeat Felix Faust and Wylde eventually becomes an actual bear, without the ability to speak, and locked up in a zoo. The title ends with the clearing of the Outsiders' names and the wedding of Geo-Force and Denise Howard.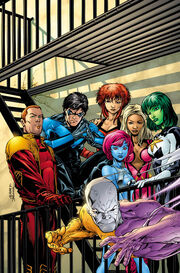 Looking for Trouble
In the aftermath of Donna Troy and Omen's deaths during Graduation Day, the Titans formally disband.[11] Arsenal and Nightwing put together a new team that they're not emotionally attached to including Grace, Indigo, Metamorpho and Thunder. Having accepted sponsorship from the Optitron corporation as a tax write-off, their headquarters is an abandoned bomb shelter under Brooklyn.[12] Their first challenge is to defend New York against an invasion by Gorilla Grodd, although it's revealed that this is a ruse by the Joker so he can kidnap President Luthor.[13] They stop the Joker and complete their first successful mission as a team. Nightwing later tells Batman that he's tired of being a reactionary hero and plans to lead his new team as super-villain hunters, calling themselves the Outsiders.[14] They begin taking down smaller criminals such as the Brotherhood of Evil, and their second large mission is going after the newly returned Brother Blood. They stop the Church of Blood's world domination plan, but at the cost of releasing thousands of super-villains from The Slab and labeling themselves as criminals.[15] It's revealed that their Metamorpho is a genetic fragment that gained sentience when the real Metamorpho arrives to confront him.[16]
Sum of All Evil
Huntress briefly joins to replace the injured Arsenal, and they begin tracking down the new Sabbac when Timothy Karnes is killed. This leads to a large battle where they defeat him with the help of Black Lightning and Captain Marvel, Jr..[17] Arsenal finally recovers from his shooting with Nightwing's help.[18] Huntress leaves and their Metamorpho takes the name Shift to distinguish himself from the Metamorpho.[19] Shimmer is resurrected by Doctor Sivana to form his own Fearsome Five including Gizmo, Jinx, Mammoth and Psimon. They stop the Five from stealing nuclear missiles to destroy Vancouver, but Sivana evades capture.[20]
Wanted
Jade takes control of the team after accusing Nightwing of being too emotionally detached, and her first act is to add Starfire as their newest member.[21] Grace becomes obsessed when they stumble upon a child sex slave ring, and it's revealed that she was abused as a child by the ringleader Mr. Tanner. They enlist the help of John Walsh from America's Most Wanted to hunt these men down, stopping them after rescuing Lian Harper from an attempted kidnapping.[22] Shrapnel interrupts a date between Indigo and Shift when he invades their headquarters. Nightwing is angry to find that their sponsors Optitron are a subsidiary of Wayne Enterprises.[23] While Nightwing confronts Batman about not confiding in him, it's revealed the Batman that Arsenal has been using for tips is actually Deathstroke.[24] Deathstroke nearly kills Arsenal but gives him a free pass, and when Arsenal returns to Headquarters he explains there is a traitor in the group.[25] They lock down the facility while Arsenal interrogates each member of the team, eventually concluding that their traitor is Shift.[26]
The Insiders
Superboy attacks the Teen Titans while brainwashed by Lex Luthor. Indigo reveals that she is the traitor in the Outsiders, and her real identity is Brainiac 8.[27] Indigo nearly defeats the entire team before escaping. Brainiac and Lex Luthor are revealed to be responsible for these attacks when they release an army of Superman Robots.[28] The Titans and Outsiders defeat the army of robots. Wonder Girl breaks Superboy out of Luthor's mental hold.[29] Starfire defeats Brainiac by supercharging her powers to blow up his Skull Ship. Indigo briefly regains control and tells Shift he must kill her to stop Brainiac 8, which he does regretfully. Nightwing quits the team because things have gotten too personal.[30]
Black Lightning, Katana and Metamorpho hunt down a villain from their early career named Fuse who turned people into living bombs.[31] They are unable to rescue his last victims, but Katana executes Fuse in his hospital bed.[32] The Outsiders mourn Indigo and Jade enlists Captain Marvel, Jr. to replace her. Arsenal and Jade decide to demolish the Outsiders bunker because it has been compromised too many times.[33]
Infinite Crisis
The Society in Villains United sends Sabbac and the Fearsome Five to battle the Outsiders at Alcatraz. When the Spectre's rampage destroys the Rock of Eternity, Sabbac absorbs the Seven Deadly Sins and becomes extremely powerful.[34] Katana arrives to help the fight and they imprison Sabbac in her sword.[35] Donna Troy enlists the more powerful Outsiders to deal with a cosmic storm.[36] Blackfire returns and tries to kill Starfire. Arsenal poses as Deathstroke to fool the Rogues and infiltrate the Society.[37] Arsenal and Grace rescue Mary Marvel from imprisonment and blow up one of the Society's buildings.[38]
One Year Later
After Infinite Crisis the Outsiders are "officially" no more. Because of the Freedom of Power Treaty, the Outsiders have been operating covertly outside of the United States. Most of the members were presumed dead until a botched mission forces them to reveal their presence. Following the revelation of their continued existence, they are recruited by Checkmate to pursue missions which Checkmate cannot support publicly. Checkmate's assignment as part of the "CheckOut" crossover arc involves dispatching the Outsiders to Oolong Island in China, the scene of World War III the previous year. The mission goes disastrously when Chang Tzu manages to capture Owen Mercer and Checkmate's Black Queen, until both sides are eventually bailed out by Batman. In the aftermath, Nightwing decides to give Batman control of the team once more.
Five of a Kind
Batman holds tryouts to determine who will be on the team in a series of one-shots called Five of a Kind, and angers several members who feel he has no right to remove people already on the team.
Captain Boomerang leaves the team for Waller's Suicide Squad and Nightwing decides to take no part in the Outsiders' questionable activities. Katana is chosen as the team's first official member, with the Martian Manhunter, Metamorpho, and Grace as later recruits. Thunder is kicked off the team and Aquaman is rejected as a member because Batman feels he doesn't match up to his predecessor, Orin. Batman then tells the other members that "Whether you like it or not, you're here to save the world. And you're going to be hated for it."
After the team's first official mission, Catwoman overheard the other recruits' talking about the team being "down by law", and said, "Batman can't possibly start up his own crew of super-crooks without me in it!"[39]
The Chrysalis
The team soon shakes up it's membership, with Martian Manhunter and Catwoman quickly deciding the team isn't for them and leaving, with Green Arrow, Batgirl and Geo-Force soon taking their places. The hacker Salah Miandad assists Batman in analyzing an OMAC prototype that is captured in their first mission. Soon the team ends up on a mission to China to counteract a weapons program undertaken by a rogue element of their metahuman program acting without government authorization, save for Metamorpho who sneaks his way onto one of their shuttles to disable the space weapon platform they're building on the moon. Much of the team is captured, but Batgirl frees them before they can be executed and reinforcements including Thunder and the captured OMAC, now dubbed ReMAC and remotely operated by Salah, manages to save them, and with their combined efforts shut the program down.
Outsiders No More
When Batman dies during the events of Final Crisis and several members are taken out by actions initiated by his enemies, the team in it's current form disbands shortly afterwards.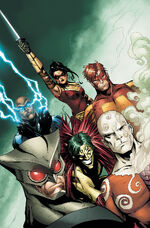 The Deep
In the aftermath of Bruce Wayne's apparent death during Final Crisis, his will asks Alfred Pennyworth to assemble a new team of Outsiders including Black Lightning, Creeper, Geo-Force, Halo, Katana, Metamorpho and the new Owlman.[40] These recruits are given 48 hours to decide before starting a military tour of duty, and Pennyworth takes them into space with the Bat-Rocket as their new home.[41] Their first battle is against a long-time conspiracy against them when they fight agents of the immortal Insiders.[42] They quickly realize that the agents are hunting down part of the meteorite that created Vandal Savage.[43] Tracking these fragments down, they travel to Opal City where Deathstroke has also taken a contract on the immortals.[44] While they battle Deathstroke to get the fragment, a team is sent to take down their space headquarters and Creeper eliminates these men one by one.[45] In the end there's a massive battle when the Outsiders converge on the Insiders' headquarters simultaneously with Ra's al Ghul and Vandal Savage. They stop the Insiders from destroying the planet with a drilling machine when Creeper crashes the Bat-Rocket into their base, and the Outsiders end their first tour of duty.[46]


Holy anachronisms, Batman!
This article is in need of updated information.
Please follow the guidelines in the Help section and complete this article to the highest level of quality. Remove this message when finished.
Paraphernalia
Equipment: None known.
Transportation: None known.
Weapons: None known.
Notes
Trivia
See Also
Links and References
Footnotes