Phantom Lady Vol 1 1
Talk

0
79,936pages on
this wiki

"Chasing Shadows"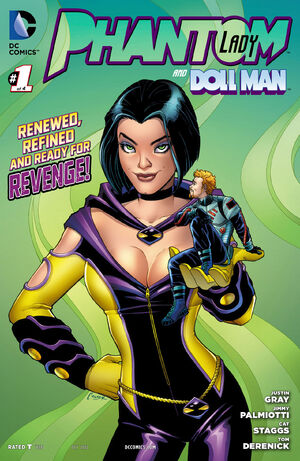 Previous Issue
Next Issue
—
Appearing in "Chasing Shadows"
Featured Characters:
Supporting Characters:
Villains:
Todd
Robert Bender (Flashback only)
Cyrus Bender (First appearance)
Eli Bender (First appearance)
Frank "The Warlock" McGraw (First appearance)
Other Characters:
Harry Knight (Dies)
Ginger
Locations:
Items:
Vehicles:
Synopsis for "Chasing Shadows"
Several years ago, Jennifer Knight witnessed the murder of her parents on Christmas Eve. Her father had been one of the best reporters on the Daily Planet's crime beat, and was close to breaking the case against crime boss Robert Bender, until Bender found out. He tied Henry Knight and his wife up in their house, doused them in gasoline, and set them ablaze. Little Jennifer ran from the flaming house while her parents burned alive.
Jennifer became a reported too, when she grew up. Using a high-profile club-scene blog, she infiltrated the inner circle of Cyrus and Eli Bender, the heirs to Robert Bender's crime legacy. She had promised herself that she would do anything to bring the Bender family down - including sleeping with the son of the man who murdered her parents.
Unfortunately, Cyrus found out that she was using the blog as a cover for the fact that she was working on an exposé crime report, and in order to send her a message, he had his thugs break Jennifer's companion's nose in front of her. With her cover blown, Jennifer desperately stole Cyrus' phone.
Exhausted and shaken, she returned to Maxwell's Junkyard, where Dane Maxwell was experimenting with size manipulation. When she walked in the door demanding to use his laptop, and requiring that he hack the phone, his response is one of growing frustration. Since they were kids, he had been in love with her, but she had never shown much interest in him, apart from sleeping with him occasionally; much less had she shown much respect for his feelings about it.
Regardless, once she explained the mess she was in, he agreed to help her, insisting that she take a nap. When she woke, he refused to give her the files that he recovered from the phone. Though he had found video proof of the fact that Cyrus Bender had killed his father Robert, he had instead mailed the phone back to Cyrus, using the files he recovered as insurance that Jennifer would be left alive. Jennifer realized that Dane had made a mistake in calling Cyrus, because that meant that they could be traced.
The worry proved valid, as Bender's men soon arrived at the Junkyard. Dane tried to reason with them, but they had come to destroy the copies, and then kill their blackmailers. They shot Jennifer in the leg, while Dane escaped into a bullet-proof chamber, which was a component for his experiments. While Jennifer was dragged away, the remaining thugs realized that the bulletproof chamber was related to a control panel nearby, and decided to play with them and see what happened. Dane pleaded with them to leave it alone; that he had made a deal with Bender, but to no avail.
After the device had done its work, the thugs looked inside to find only Dane's clothes remaining. They left, with Jennifer thinking that her childhood friend was dead. However, Dane was still alive - he was just much, much smaller.


Notes
Trivia
See Also
Recommended Reading
Links and References