Planetary Vol 1 1
Talk

0
79,937pages on
this wiki

"All Over the World"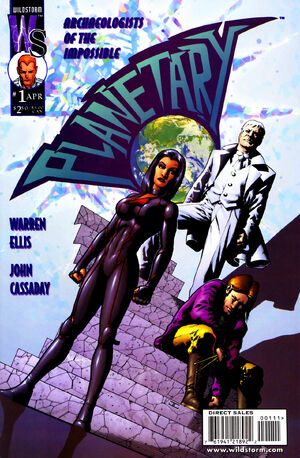 Previous Issue
Next Issue
—
Some decent clothes, unlimited room service, time on my own, a platinum card in my pocket. Either I've gone insane, or they poisoned the food, or...or it's for real. Don't know which scares me more...

-- Elijah Snow
Appearing in "All Over the World"
Featured Characters:
Supporting Characters:
Villains:
Other Characters:
Locations:
Items:
Vehicles:
Synopsis for "All Over the World"
Elijah Snow, a man as old as the 20th century, is recruited from a meaningless existence to be the third man of the organization known as Planetary. Joining Jakita Wagner, the lovely and leather-clad, super-strong team leader, and The Drummer, a wise ass who can tell machines what to do, Snow learns that Planetary's goals -- funded by a mysterious fourth man -- are to uncover the secret history of the past century, wherever that quest may take them. Snow's first mission is to a mountain cavern hidden in the Adirondacks, to encounter an extraordinary man by the name of Doctor Axel Brass, a 1930s superhero who disappeared decades earlier. It is learn from Brass that he and six associates of that era had taken on the responsibility of protecting the universe, and in 1945 designed a massive computer brain which enabled them to literally code the future of the world. That awesome invention also proved their undoing, for as the brain moved into life, it opened a doorway into our reality from a parallel one. Through it came another group of superbeings, their own universe on the verge of destruction, to battle for supremacy in ours. "We saved the world that night," recalls Brass. "Only I survived." Unable to switch off the brain, Brass watches over it to make sure no one else comes through... for more than 50 years.
In the end, Brass is escorted away by Planetary's medics as Snow question Wagner if their organization got what they wanted which Jakita simply replied that they did uncover Brass' quantum supercomputer and a secret base, making everything worthwhile.


Notes
Trivia
This issue marks the first appearance of Dr. Axel Brass.
See Also
Recommended Reading
Links and References