"Lust in Space": In the Outlands of planet Valeron, a warring tribe launches a contraception bomb, which renders everyone on the planet steril. The self-appointed hero Vartox charges himself with finding a suitable woman with whom to repopulate the species. He learns o
Let those who would threaten his people taste the raw destructive power of Vartox the Hyper-Man!

-- Vartox
Appearing in "Lust in Space"
Featured Characters:
Supporting Characters:
Villains:
Other Characters:
Locations:
Items:
Vehicles:
Vartox' Interstellar head ship


Synopsis for "Lust in Space"
In the Outlands of planet Valeron, a warring tribe launches a contraception bomb, which renders everyone on the planet steril. The self-appointed hero Vartox charges himself with finding a suitable woman with whom to repopulate the species. He learns of Power Girl and chooses her to be his mate. Vartox boards his interstellar head ship and makes the trip the Earth to seduce her.
In New York, Power Girl and Doctor Mid-Nite are in the midst of a fight with the Blue Snowman. They easily defeat the foe and are surprised to discover that the Blue Snowman is actually a woman. Vartox appears and uses a special musk cologne in the hopes of wooing Power Girl. To prove his physical prowess, he also lets loose an indestructable creature known as an IX Negaspike, which he intends on defeating to impress Power Girl. Power Girl has no time for Vartox and begins fighting the monster. She freezes it with her arctic breath, then smashes it to pieces. As Vartox had warned however, the creature is indestructable and begins replicating.
Notes
This book was first published on December 16, 2009.
This issue's cover is an homage to Superman #281.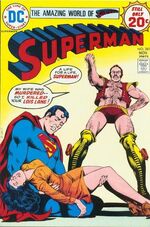 Trivia
See Also
Recommended Reading
Links and References