Psychic Link
Talk

0
80,029pages on
this wiki
Category page | Redirected from Psychic Link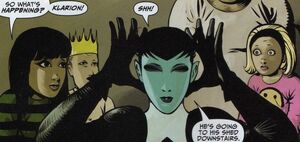 Sometimes called "mindlink", Psychic Link is a term used to describe the ability of some characters to connect their minds with others. It is a form of passive Telepathy that can create an empathic bond between one or multiple individuals. Certain characters are connected by their hybrid births and others simply use it as a means of communication.
See also:
Pages in category "Psychic Link"
The following 45 pages are in this category, out of 45 total.
A

C

D

E

F

G

I

J

K

M

M cont.

P

R

S

T