Rann-Thanagar War
Talk

0
79,938pages on
this wiki
This page is similar in name or subject to other pages.
See also Rann-Thanagar: Holy War for a complete list of references to distinguish between these closely named or closely related articles.

Official Name
Rann-Thanagar War
Characters
Heroes
Adam Strange
,
Hawkman
,
Hawkwoman
,
Blackfire
,
Hawkgirl
,
Captain Comet
,
Starman
, the
Green Lantern Corps
,
L.E.G.I.O.N.
, the
Omega Men
, the
Darkstars
History
Adam Strange: Planet Heist
Rann-Thanagar War
Hands of Fate
Issues
Issues involved in the story include:
Related Articles
Issues
Issues in event are unknown.

Paraphernalia
Items: None known.
Vehicles: None known.
Weapons: None known.

Notes
Trivia
Recommended Reading
Links and References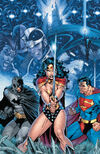 Crossover

The events from this issue or series are related to Infinite Crisis, and/or any of its surrounding events, including Villains United, the OMAC Project, Rann-Thanagar War and Day of Vengeance. This template will automatically categorize articles that include it into the Infinite Crisis crossovers category.
This article is an event stub.

You can help The DC Database Project by editing its content.
We have prepared templates as a guide to page creation.

This article should include as much of the following information as possible:
High quality pictures from the event coverage, issues related to the event and their respective print dates, cast of characters (mentioned or seen), synopsis of event, related events and any other known information.

This article likely contains little information and may also be inaccurate or out-of-date.
If this page contains information not relevant to The DC Database Project, please contact an administrator with any concerns.
(This template will categorize articles that include it into Category:Events & Category:Article Request.)