Red Robin Vol 1 8
Talk

0
80,188pages on
this wiki

"
Council of Spiders
, Part Four of Four"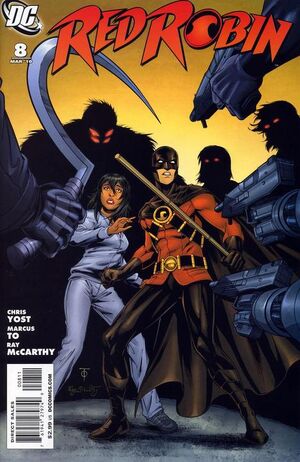 Previous Issue
Next Issue
Hesitation... second guessing... self-pity... Leave them behind. They're death now. Use what you know. Remember what you learned. Be smart. Stay alive. Save the girl. Remember what Shiva taught you... what Ducard taught you. Remember how Dick moves so effortlessly. Remember Conner's own special "techniques." Remember what Bruce did. Use it all now. Win the next fight and the one after that before you get there. Remember everything your teachers gave you. Don't be any of them. Be all of them.

-- Tim Drake
Featured Characters:
Supporting Characters:
Villains:
Other Characters:
Locations:
Items:
Vehicles:
After the Ra's al Ghul "dies" Tim and Tam are left with the entire Council of Spiders; Wolf, Funnel, Goliath, Widower, Wanderer, Tangle, and Sac. Tim notices that Ra would not die so easily and when he checks it is plainly Ra's body double in to test the Council. Ra then reveals himself to be alive as Tim tries to count his odds against the most deadly of killers. Before long Wanderer realizes the deception and calls for her spiders to strike. Ra's watches the fight from his hidden camera as Tim and Tam fight for their lives, once an opening is made, Tim has Tam run for the exit.
Tam doesn't make it and falls into the grasp of the Wolf and Sac who are promptly stopped by White Ghost and Pru. Tim fights off the rest of the Council when the Wanderer joins into the fight, only a touch could kill him, so he does his best to avoid her. The party escapes into the main computer room of the Cradle and executes the program designed to destroy all of the League's cradles. Pru and the White Ghost escape down a corridor and Tim escapes with Tam up an air shaft. Ra's promises "Timothy" that since he has hurt Ra's, he will get revenge. But the Council of Spiders isn't defeated so easily as they rise from the ashes with a new prey to hunt, "Heroes."


Notes
This issue was published on January 6th, 2010.
This issue is reprinted in the Red Robin: Collision collected edition.
Trivia
See Also
Recommended Reading
Links and References