Resurrection Man Vol 2 1
Talk

0
89,175pages on
this wiki

"Pronounced Dead": In a darkened room of the morgue, Resurrection Man awakens from his latest death. He gets a grip on his new powers as he mentally "tastes" all the metal in the room. He takes clothes and a wallet from one of the medical examiner's locker
"Pronounced Dead"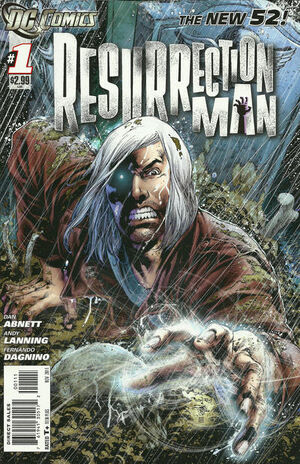 Previous Issue
Next Issue
—
Appearing in "Pronounced Dead"
Featured Characters:
Supporting Characters:
Villains:
Other Characters:
Locations:
Items:
Vehicles:
Synopsis for "Pronounced Dead"
In a darkened room of the morgue, Resurrection Man awakens from his latest death. He gets a grip on his new powers as he mentally "tastes" all the metal in the room. He takes clothes and a wallet from one of the medical examiner's lockers and heads to the airport. There is a nagging feeling that he must go to Portland.
Taking his seat on the plane, Mitch is joined by a young woman with a pink teardrop tattoo under her eye. She introduces herself as Sue and proceeds to tell Mitch why all the other passengers are on the flight. Mitch is amused by her little game but becomes concerned when she gets up and tells him it is time to leave. Sue transforms into some grotesque, four-armed angel. The bizarre woman tells Mitch his soul is overdue. She rips open the cabin of the plane and kills the air marshal before Resurrection Man has time to react.
The angel drags Mitch outside the plane. In the storm outside, he can see phantoms coming to claim the souls of the passengers. Resurrection Man and the angel fight in the air outside the doomed plane. She continues to talk about the great prize his soul is until Mitch uses his powers to attract a lightning bolt and electrocute the her. His victory is short-lived as he is sucked into the plane's giant engine and killed.
A half hour later, Mitch once again resurrects, this time in the wreckage of the downed flight. He uses his newest set of abilities, the power to turn into water, to escape before his presence raises questions with the authorities.
Back at the morgue, the Body Doubles interrogate one of the employees about the disappearance of a John Doe brought in earlier. They receive little help from the man and swiftly execute them. Several terrified employees look on as the Body Doubles agree to try the same questions with another employee - only this time it may be easier if they don't gag their victim this time around.
At the scene of the crash, a male first responder with a pink teardrop tattoo talks to his boss over the phone. He explains why he wasn't able to acquire the soul or even the body of Resurrection Man. He concludes the conversation by saying he will get his soul. Elsewhere, Madame Xanadu muses that Resurrection Man always comes back and this time it means trouble.


Notes
Pandora makes a cameo appearance to witness the events of this storyline, as she does all #1 issues published as part of The New 52. This is following her first appearance in Flashpoint.[1]
Trivia
The airline Mitch flies on is called "Lazarus Airlines." Lazarus is a character from a biblical story in which he was raised from the dead.
See Also
Recommended Reading
Links and References