Resurrection Man Vol 2 10
Talk

0
79,921pages on
this wiki

"Heaven Can Wait"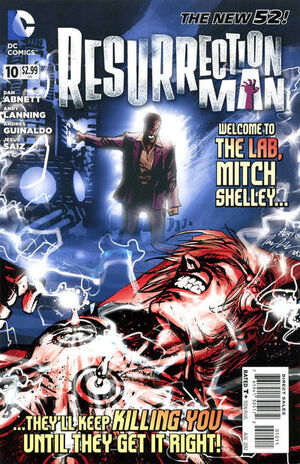 Previous Issue
Next Issue
Anyway, so that's when I learned to operate heavy machinery by touch so I could smack angels.

-- Kim Rebecki
Appearing in "Heaven Can Wait"
Featured Characters:
Supporting Characters:
Villains:
Other Characters:
Locations:
Items:
Vehicles:
Synopsis for "Heaven Can Wait"
Using Mitch Shelley's new shadow-based powers, he and Kim Rebecki follow her psychometric trail to the place they believe to be the Lab - a place important to understanding Mitch's past. Though they hope it is the Lab, Kim's abilities aren't pin-point accurate; she merely saw the place when she touched Mitch.
After sneaking inside, they accidentally trip an alarm system, which unleashes a host of mechanical countermeasures against them. The robots are set to use lethal force, so Mitch must use his powers to protect them both. Using her abilities, Kim traces the CPU to a specific node of cables, and Mitch directs his attention to destroying it. Mitch manages to sever the connections just in time to save their lives.
Safe, for now, Mitch realizes that the technology all reminds him of his friend Darryl - the Transhuman. Perhaps, Darryl is the connection Mitch needs to follow to the Lab. Investigating further, they discover that his facility is actually Darryl's secret super-villain lair, filled with equipment and design specs. Again, Kim's abilities prove useful, as she discovers that Darryl fixed himself with a tracking system. Since he was taken to the Lab, it can be assumed that wherever he is, the lab is. Mitch is grateful for Kim's help, and she flirtatiously suggests that he thank her by taking her on a date.
Their brief success is marred by the sudden appearance of Suriel and her cohorts. This time, the angel intends to take Mitch's soul, no matter what. This proves difficult, as killing him could easily give him another way to escape them. Things become even more complicated when a representative of Hell appears, and claims that someone from the other side should be present, if someone is going to claim his soul.
Mitch isn't especially pleased to have the demon speaking on his "behalf" - at least no more pleased than with the idea of being take by the angels. Desperate for answers, and knowing how close he is, Mitch begs for just one more week to find out the truth. After that, he agrees to surrender to whichever party claims him first. Kim is visibly upset by the offer, but the demon and the angel accept the terms, and leave.
At least, the deal has bought Mitch more time. Free, for now, Mitch and Kim begin tracking Darryl's signal.


Notes
Trivia
See Also
Recommended Reading
Links and References