Rex, the Wonder Dog (New Earth)
Talk

0
79,937pages on
this wiki
Origin
Rex, the Wonder Dog was used as a test subject for a super-soldier formula during World War II. After being injected with the drug, he gained human-level intelligence. He served in the US Army's K-9 Corps.
Fountain of Youth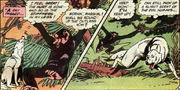 During an adventure with Detective Chimp, they tailed some thieves who had robbed a circus, to the Atlantic Island of Bimini. When an alligator attacked Bobo, Rex defended him but was wounded. Bobo went off and found a source of water that turned out to be the fabled Fountain of Youth. The water reinvigorated them both, returning their youth and extending their lives.[1]

Expand
This section of the article does not provide a complete profile of the subject. You can help out by providing additional information, expanding on the subject matter in order to bring this article to a higher standard of quality.
This template will categorize articles that include it into Category:Incomplete Articles.
Powers and AbilitiesEdit
Powers
Rex is also known as Wondrous Rex, and the Wonder Dog.
Related
Discover and Discuss
Footnotes