Believe it or not, Batman, there are federal operation you know nothing about. Because it's better that way.

-- Rick Flag
History
Richard Flag, Jr., better known as Rick Flag, is a federal agent working under Amanda Waller. Flag assists Waller in constructing her black ops team of super villains, the Suicide Squad. Because of his shady nature, Flag runs into trouble with Batman. [1]

Notes
Related
Links
Footnotes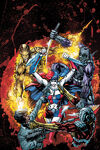 Suicide Squad member
This character is or was a member of the Suicide Squad, a team of imprisoned super-villains who perform high-risk missions for the U.S. Government in exchange for commuted sentences, in any of its various incarnations. This template will categorize articles that include it into the "Suicide Squad members" category.