Script error
History
Rip Hunter, Time Traveler, uses a chalk board to write down his thoughts and questions about the DC Universe's ever-changing history, due to the fluid nature of the timestream. It first appeared during the events of 52.
Following are chalkboard notations categorized by the issues in which they appeared. Links to referenced individuals, items or events occur within the reference itself and citations link to the respective issues where the references actually occur or offer commentary when issues cannot be identified.
52
In addition, the number 52 is written in circles all over the board... there are some scraps of paper with the numbers 51, 53, 54, 55, and 56 written on them... there are what appear to be television screens showing historical events, some of which occurred before the advent of photography... all the clocks in the laboratory appear to be set at 11:52.
Countdown
Final Crisis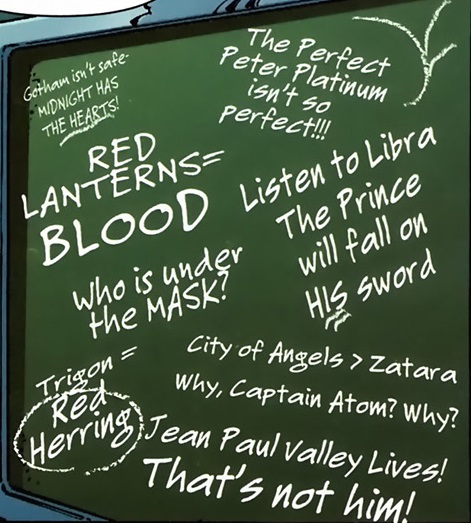 Death leads to Darkness
Azrael comes and goes
For every Positive there is a Negative
Booster Gold - Armageddon 2001?!?
Is Dibny the KEY?
Interlude
Before: Time Masters: Vanishing Point
After: Time Masters: Vanishing Point
(Note: Rip Hunter did not write these messages down.)
See Also
Links and References