Savage Hawkman Vol 1 8
Talk

0
79,938pages on
this wiki

"Strange Bedfellows"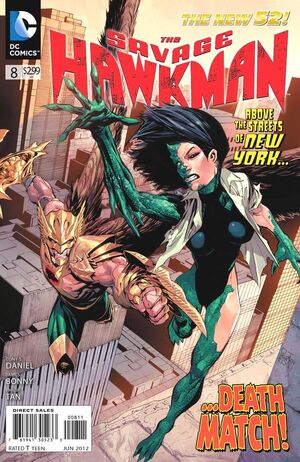 Previous Issue
Next Issue
Appearing in "Strange Bedfellows"
Featured Characters:
Supporting Characters:
Villains:
Other Characters:
Locations:
Items:
Vehicles:
Synopsis for "Strange Bedfellows"
Hawkman has met once again with Askana, and after a short battle, manages to subdue her. Askana begs Hawkman not to kill her, she needs his help. She explains that there are agents from her homeworld that are after her for a crime she did not commit. She only attacked Hawkman to see if he was up to the challenge. Hawkman asks why doesn't she ask Dr. Kane for help, and Askana answers that if he would sell her out for more alien technology. At first, Hawkman refuses to help her, and Askana asks him to kill her, saying he would be doing her favor. Hawkman, believing he is going soft, decides to help her.
On a secluded street, an unidentified man manifests through a green mist. Putting some clothes on, the man blends in with a crowd. He is on a mission to find the "Violator."
Carter reaches Professor Ziegler's lab and tells Emma that her father called him for something urgent. When Emma calls her father to confirm this, he denies having called Carter, who believes Professor Ziegler's Alzheimer is getting worse. Emma denies this, saying that it's just stress from working with the alien samples Carter found. Carter goes to the rooftop, manifests his armor and flies away.
Hawkman meets up with Askana at Lower Manhattan. Standing on a rooftop, they watch the unidentified man meets with other men similar to him. Askana says that they are aliens like her, but those are hunters who can only project human form at night. They have already scanned the city with their telepathic communications, and it is only a matter of time before they find her.
Askana then says that she feels a deep well of hatred inside Hawkman. He replies that he hates a lot of people, but Askana replies that he is using that hatred to mask something deeper. Suddenly, the shapeshifters attack them, transforming their arms into razor-bladed tentacles.
As the battle progresses, Hawkman wonders if the aliens are after Askana, why are they focusing on him. Then it becomes clear to him. Hawkman and Askana quickly slay the aliens, and Hawkman deduces he was the aliens' target, not her. Those aliens weren't from Askana's species, they were aliens sent by the High Council to find Hawkman, the Violator who released Morphicius from his containment tomb. Askana says that the battle isn't over and there are still enemies after him. She apologizes for lying to him, but Hawkman doesn't care and flies away.


Notes
Trivia
See Also
Recommended Reading
Links and References