Selina Kyle (Arkhamverse)
Talk

0
79,914pages on
this wiki
You stick to the brooding, I'll handle the wise cracks.

-- Catwoman

Originally, Selina Kyle was the greatest cat burglar in the world. In this continuity, Two-Face tied her and prepared to execute her attempting to steal from him but the "trial" is interrupted by Batman as he saves her and they part ways. She decides next to steal from Hugo Strange some confiscated items in his guarded vault and seeks the help of Poison Ivy, but a fight begins between them as Ivy is angered at Selina for not watering one of her plants, after which she is left dangling from a vine and begins to negotiate with Ivy. After taking Strange's vault and learning that Batman is in the verge of defeat, she throws Strange's confiscated items to save Batman instead. After Batman defeats Clayface and Joker, Catwoman deals her last encounter with Two-Face for the last time before leaving Arkham City for good.

Powers and AbilitiesEdit
Abilities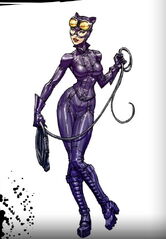 ParaphernaliaEdit
Equipment
Weapons
Whip: Catwoman carries her multi-purpose whip that she can confuse, disarm, and trip enemies with. She can also climb vantage points with the whip as well.
Claws: Selina Kyle uses gloves with built-in claws.
Bolas
Caltrops: Catwoman uses a custom handheld ball known as a caltrop. When the caltrop hits the floor, it breaks apart into many jack like spikes. If a henchman steps in the trap, they will fall to the floor in pain.

Catwoman supposedly leaves Arkham City after getting her things from Two Face thugs.
Related
Discover and Discuss
Footnotes

Batman Family member

This character is or was an incarnation of or an ally of Batman, and a member of the Batman Family. This template will automatically categorize articles that include it into the "Batman Family members" category.