History
Sinestro was a former member of the Green Lantern Corps who was banished into the anti-matter universe of Qward. He acquired a power ring that emits yellow energy to counter the Green Lantern's green energy and became a member of the Legion of Doom.

Powers and Abilities
Powers
Wears a power ring that enables him to fly and to construct various objects.

Notes
Trivia
His power ring also bears the Green Lantern symbol.
Related
Links
Footnotes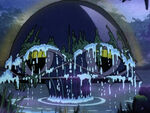 Legion of Doom member
This character is or was a member of the Legion of Doom, a team of supervillains culled together for the purpose of conquering the world and defeating the Super Friends, in any of its various incarnations. This template will categorize articles that include it into the "Legion of Doom members" category.