Stormwatch Vol 3 4
Talk

0
80,008pages on
this wiki

"The Dark Side, Part Four"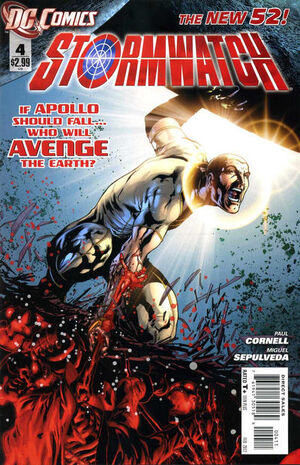 Previous Issue
Next Issue
Look, I'm carrying Apollo! He's a big threat to you, like Superman, only better looking.

-- Midnighter
Appearing in "The Dark Side, Part Four"
Featured Characters:
Supporting Characters:
Villains:
Other Characters:
Locations:
Items:
Vehicles:
Synopsis for "The Dark Side, Part Four"
The majority of Stormwatch has been absorbed by the monster sent from the moon and Midnighter is left to fend for himself. The Projectionist offers to teleport him out of there but suddenly Apollo comes crashing to Earth nearby.
Midnighter then gets The Projectionist to use Stormwatch's base in hyperspace to beam solar energy directly to Apollo. Newly energized, Apollo is able to free the others. Harry Tanner then reveals that he heard the name of the hidden city beneath the ground that Hawksmoor was trying to communicate with earlier. It calls itself Alba Umbra and Jack tells it that it must wake up in order to defend itself against this creature.
It does and reveals that it has a center in alchemy so the team uses that to turn the monster to glass and defeat it. But before they can celebrate they are all emergency teleported to Eye of the Storm. There is a being identifying itself as a member of the Stormwatch Shadow Cabinet and claims he is there to take Adam One away and kill him for failing to lead the team to victory.


Notes
Trivia
See Also
Recommended Reading
Links and References


This comic page is missing characters!
This comic page is missing one or more character appearances. If you find any characters that appear in this issue but are not included on the page, please add them to the Appearances list of the comic issue template.
(This template will categorize articles that include it into Category:Missing Characters.)