Stormwatch Vol 3 6
Talk

0
80,008pages on
this wiki

"The Dark Side, Finale"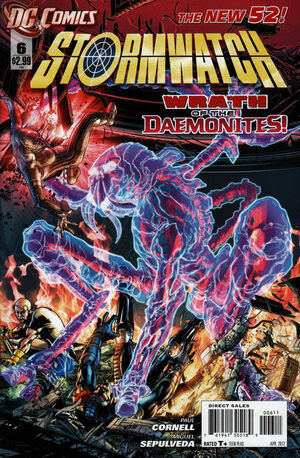 Previous Issue
Next Issue
Now I'm as powerful as you are! And I can smell my hair burning.
Appearing in "The Dark Side, Finale"
Featured Characters:
Supporting Characters:
Villains:
Other Characters:
Shadow Lords (mentioned only)
Locations:
Items:
Vehicles:
Synopsis for "The Dark Side, Finale"
After the Eye of the Storm is detonated by Henry Tanner, the blast has knocked the station out of Hyperspace and into real space. Martian Manhunter, Jack Hawksmoor, and The Engineer are being held inside a force field Jenny Quantum has created. Meanwhile, Apollo comes and rescues Midnighter who has floated out into space.
Jack makes contact with the station using his powers and it's revealed the station was merged with a Daemonite long ago in the past. Jack, however, already knew this since he's the one who sealed away the Daemonite's conciousness. The Daemonite is prepared to die for its cause but Jack strikes a deal that if the Daemonite will help save the station, he will allow it to be free but still be part of the station. It agrees. P With the station back in one piece, Stormwatch regroups. The Engineer puts to a vote who they want as leader and they elect her. They then decide to go after some caches of artifacts Adam One had stored around the world. They expect to find Adam One by doing this.
Elsewhere, Harry Tanner has The Projectionist hostage. He gets her to see if Stormwatch is looking for them but she can only pick up media from an alien planet and she realizes a bigger threat is coming.


Notes
Trivia
See Also
Recommended Reading
Links and References