Stormwatch Vol 3 8
Talk

0
79,937pages on
this wiki

"Supercritical, Part 2"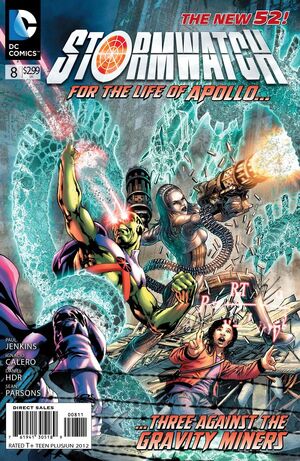 Previous Issue
Next Issue
Appearing in "Supercritical, Part 2"
Featured Characters:
Supporting Characters:
Villains:
Other Characters:
Locations:
Items:
Vehicles:
Synopsis for "Supercritical, Part 2"
Jack Hawksmoor, The Engineer, and Martian Manhunter are all scrambling to figure out what happened to Apollo. The Engineer demands that Manhunter reveal what he knows about the creatures he refers to as "Gravity Miners". He reveals that thousands of years ago the Daemonite empire sent drones to explore other worlds to conquer. They used sub-atomic particles to travel across space and encountered the Chrszy-rr, which they started calling the Gravity Miners. These creatures almost destroyed the entire Daemonite empire.
Meanwhile, Midnighter and Jenny Quantum are keeping watch over what the Gravity Miners are doing. The Engineer coaxes the Daemonite consciousness in the Eye of the Storm to divulge how the Daemonites defeated the Gravity Miners in the past.
Jenny uses her powers to take herself and Midnighter into the heart of the portal created by the Gravity Miners in order to rescue Apollo. They rescue Apollo and Jenny separates from Midnighter so she can set a bomb to blow the portal. She rigs the bomb and asks Midnighter to pull her back but he refuses. He decides to leave her in there because he thinks she's too powerful and too dangerous to exist in our world. He teleports back without her and tries to tell the others he had no choice but to leave her behind. The others are confused because Jenny arrived back on the station before Midnighter, alive and well.
The Gravity Miners are gone for now but Martian Manhunter lets The Engineer know that since they operate outside of time they could reappear anytime. Jenny confronts Midnighter about what he did and taunts him by telling him she did something to him but won't tell him what.


Notes
Trivia
See Also
Recommended Reading
Links and References