Stormwatch Vol 3 9
Talk

0
80,037pages on
this wiki

"The Da Vinci Coda"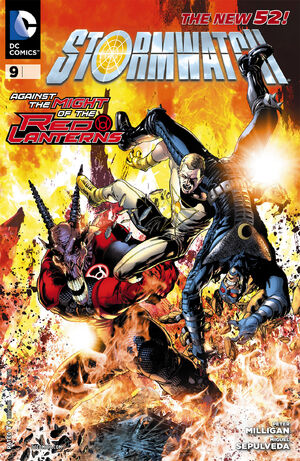 Previous Issue
Next Issue
For some time, we've been monitoring an organization called the Green Lanterns. They consider themselves the ultimate authority on Earth...We allow them their delusion.

-- Engineer
Appearing in "The Da Vinci Coda"
Featured Characters:
Supporting Characters:
Villains:
Other Characters:
Locations:
Items:
Vehicles:
Synopsis for "The Da Vinci Coda"
Midnighter is in the training room questioning his decision to join Stormwatch when The Engineer calls him and Apollo for a mission.
Meanwhile, Jack Hawksmoor, Jenny Quantum, and Martian Manhunter are in Rome dealing with a super-powered person. Jenny quickly subdues him and the team prepares to return to base.
Back in the United Kingdom, Apollo and Midnighter intercept a Red Lantern named Skallox who entered Earth's atmosphere. Apollo questions why he come to Earth but Skallox simply attacks without answering. He burns Apollo's eyes and Apollo heads up into the sky to regenerate with the sun's rays. Midnighter takes on the creature and ends up cutting off his arm. This separates Skallox from his Red Ring and allows it to be defeated. They take it back to the Eye of the Storm to study.
The others arrive back from Rome with their captive who identifies himself as Piero Rosci who calls himself the Vitruvian Man. He claims he is from an incarnation of Stormwatch from the past and that the Shadow Cabinet killed his lover and he's mourned her lost ever since. Talking about his plight causes his powers to manifest again and the destructive energy starts tearing the room apart. It also causes Skallox's ring to get free from containment. The ring detects Peiro's rage and seeks him out as it's new wielder. But Midnighter breaks Peiro's neck so the ring won't take him. The ring then turns its attention to Midnighter but the Engineer contains it before it can do anything.
With the threat contained, the team celebrates but Midnighter heads off by himself, still questioning whether or not he should stay with Stormwatch.


Notes
Trivia
See Also
Recommended Reading
Links and References