Superboy Vol 6 1
Talk

1
89,179pages on
this wiki

"The Clone": In a N.O.W.H.E.R.E. lab, the doctors are considering their experiment of three-and-a-half months a failure. They are unable to get any readings of brain activity. However, Doctor Cait thinks differently. She thinks that [[Kon-El (Prime Earth)|
"The Clone"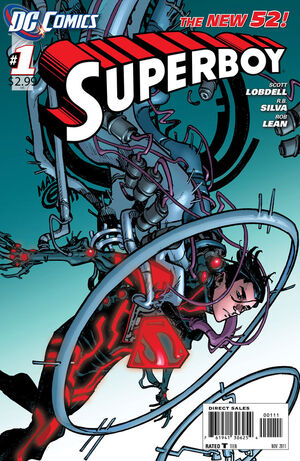 Previous Issue
Next Issue
—
Appearing in "The Clone"
Featured Characters:
Supporting Characters:
Villains:
Other Characters:
Searnold (In a vision)
Mr. Helpworth (In a vision)
Mrs. Helpworth (In a vision)
Superman (Mentioned only)
Lex Luthor (Mentioned only)
Locations:
Helpworth Farm (First appearance)
Items:
Vehicles:
Synopsis for "The Clone"
In a N.O.W.H.E.R.E. lab, the doctors are considering their experiment of three-and-a-half months a failure. They are unable to get any readings of brain activity. However, Doctor Cait thinks differently. She thinks that Superboy is alive, and they just can't read him properly. She is right. However, the other doctors start the termination protocols. Suberboy senses that something is wrong though and breaks out of his test-tube chamber. The lab is destroyed, but Dr. Cait escaped. She grabs Superboy. One month later, Superboy is enrolled in High School in Smallville. There, he meets Rose Wilson whom it seems takes an immediate liking to him. They walk home together, and Superboy is seemingly so enamoured with Rose that he fails to notice a woman in a burning house screaming for help. He heads back home to the Helpworth Farm, which is all actually a simulation program ran by N.O.W.H.E.R.E. The scientists can't figure out why he doesn't even flinch when he goes by the woman screaming for help. They feel they need to fix this before they can release him into the world. However, Templar has a different idea. He feels that Superboy needs to be released now, to deal with the Teen Titans.


Notes
Pandora makes a brief cameo appearance to witness the events of this story, as she does all #1 issues published as part of The New 52. She can be seen on the landing bay, as Zaniel Templar arrives.
Trivia
See Also
Recommended Reading
Links and References


This comic page is missing characters!
This comic page is missing one or more character appearances. If you find any characters that appear in this issue but are not included on the page, please add them to the Appearances list of the comic issue template.
(This template will categorize articles that include it into Category:Missing Characters.)