Superboy Vol 6 7
Talk

0
79,937pages on
this wiki

"Untamed Rose!"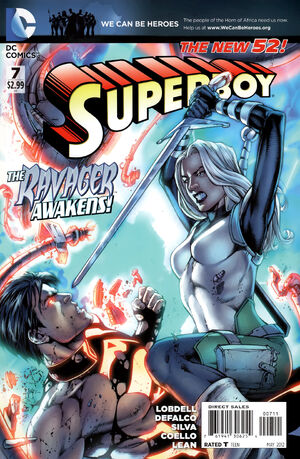 Previous Issue
Next Issue
If I am N.O.W.H.E.R.E.'s second clone -- who and where is their first?

-- Superboy
Appearing in "Untamed Rose!"
Featured Characters:
Supporting Characters:
Villains:
Other Characters:
Locations:
Items:
Vehicles:
Synopsis for "Untamed Rose!"
Superboy punches Rose Wilson through a laboratory and warns her to leave him alone so he can find his creator.
As he rushes through N.O.W.H.E.R.E's headquarter he is encountered by Centerhall and a large group of armed N.O.W.H.E.R.E-henchmen but can easily defeat them by manipulating Centerhalls psionic blasts.
As Superboy recovers from this fight Danny the Street shows up by creating a street in the middle of a passage and gives him signs to convince Superboy to leave. As Danny disappears Superboy thinks he must have hit his head or N.O.W.H.E.R.E. was trying to trick him.
Finally Superboy finds the laboratory he's been created in just to find out that he is the second clone N.O.W.H.E.R.E. has been producing. At this very moment Superboy is being watched on a screen by his creator and a man named Fuji who appears to be working for him. Out of nowhere Superboy is attacked and defeated by Rose.
He awakens in another laboratory, chained up, paralyzed, almost blind and unable to use his superhuman abilities. Pretending to be unconscious he listens to Centerhall and Templar talking about dissecting him.
At the same time Caitlin Fairchild wakes up panicked in a bed unknown to her. Jocelyn Lure appears to explain that she is there to protect Caitlin as she has just been freed from N.O.W.H.E.R.E. by Superboy. Caitlin seems upset about that fact, as she says out loud that she has been trying to infiltrate the colony for the past two years, which leaves Jocelyn confused.
Meanwhile Wonder Girl breaks into the headquarter of N.O.W.H.E.R.E. to free Superboy, knocking out Rose.


Notes
Trivia
See Also
Recommended Reading
Links and References