Supergirl Vol 5 35
Talk

0
80,037pages on
this wiki

"New Krypton (Part V of X) - The Secret Origin of Supergirl"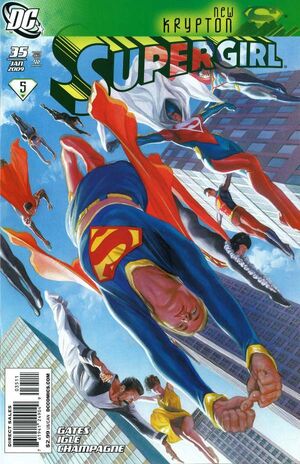 Previous Issue
Next Issue
Appearing in "New Krypton (Part V of X) - The Secret Origin of Supergirl"
Featured Characters:
Supporting Characters:
Villains:
Other Characters:
Locations:
Items:
Vehicles:
Synopsis for "New Krypton (Part V of X) - The Secret Origin of Supergirl"
Sam Lane and Codename: Assassin conspire to build a defense against possible Kryptonian aggression. Towards this end, they recruit Benjamin Krull, aka, Reactron to their cause.
Meanwhile, Zor-El and Alura visit their daughter Kara's apartment. Alura wants Kara to abandon her recently acquired secret identity and return to New Krypton with them. Kara doesn't want to, but there appears to be other matters wrong with her as well. Zor-El determines that Kara's body chemistry has been aversely affected by Kryptonite poisoning. One of the side-effects of her condition includes the crystallization of her blood. He rushes her back to New Krypton so that he can purge the ambient Kryptonite radiation from her system. As she undergoes the process, Kara recalls repressed memories of her time in Argo City shortly before coming to Earth. She remembers how her father used a Brainiac Probe to build Argo's force shield. She also remembers when the true Brainiac arrived to consume Argo City, forcing her parents to place her into exile.
Shortly thereafter, a Kandorian woman dons a mask and costume and takes to the skies, ready to introduce herself to the world.


Notes
This issue shipped on November 19th, 2008.
This issue is Chapter Five of the "New Krypton" storyline.
Includes DC Nation editorial #140 (Under Construction).
Kara was exposed to high levels of Kryptonite radiation during her long journey to Earth as shown in the first eight issues of Superman/Batman.
Trivia
See Also
Recommended Reading
Links and References