Superman/Batman Vol 1 60
Talk

0
79,943pages on
this wiki

"Mash-Up (Part I)"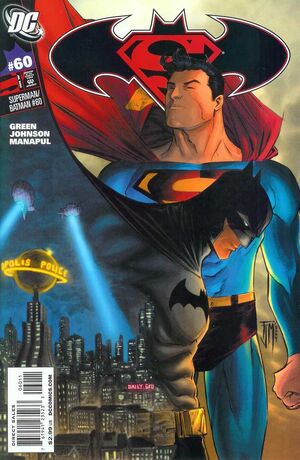 Previous Issue
Next Issue
I hear it in Clark's voice. Something alien to him. Panic.

-- Batman
Appearing in "Mash-Up (Part I)"
Featured Characters:
Supporting Characters:
Aquaborg/Arthur Stone
Donna Wonder/Diana Troy
Flash/Wally Allen
Hawk Beast/Gar Katar
Star Canary
Terranado/Terra Mark V
Villains:
Other Characters:
Commissioner White (First appearance)
Locations:
Gothamopolis (First appearance)
Justice Tower
S.t.a.r.kham
Items:
Vehicles:
The Justice Jet (J-Jet) (First appearance)


Synopsis for "Mash-Up (Part I)"
All of a sudden, Batman and Superman find themselves in yet another strange, alternate reality. In this reality, Gotham City and Metropolis have been merged together as Gothamopolis. They meet the Justice Titans who are hybrid versions of heroes they know from the Justice League and the Teen Titans. They go to the Justice Tower where they try to figure out how they came to be in this position.
Elsewhere in the city, the villain known as Doomstroke (a cross between Doomsday and Deathstroke) wreaks havoc at S.t.a.r.kham. The Justice Titans show up and want revenge against Doomstroke for the murders of the Teen Legion and the Infinity Society. Doomstroke easily repels them and Terranado is critically injured.
Doomstroke leaves and reports the news to his employer -- Lex Joker.


Notes
Trivia
See Also
Recommended Reading
Links and References