Superman: Man of Steel Vol 1 10
Talk

0
79,911pages on
this wiki

"Panic in the Sky! Fifth Strike: Tidal Wave"
Previous Issue
Next Issue
And the agony and pain I endure to take his form shall be nothing in relation to the glory I will bring to the name Draaga... who ransomed our lives with his own.

-- Supergirl
Appearing in "Panic in the Sky! Fifth Strike: Tidal Wave"
Featured Characters:
Supporting Characters:
Villains:
Other Characters:
Locations:
Items:
Anti-Matter Engine (Single appearance)
Vehicles:
Synopsis for "Panic in the Sky! Fifth Strike: Tidal Wave"
Panic in the Sky: Having commandeered Brainiac's head ship, the free heroes of Earth rebel and attack Warworld. There are still dozens of heroes however who are still under Brainiac's mental domination. They all turn their attention on Superman and attack him en masse.
Meanwhile, Draaga frees the New Gods. Dubbilex uses Metron's Mobius Chair to amplify his telepathic powers and broadcasts a message to the free heroes to help Superman.
Brainiac, seeing that the heroes may gain a foothold, activates an Anti-Matter Doomsday weapon to wipe them all out. Draaga uses his own body to barricade the weapon's aperture, thus sacrificing himself to save the others. Superman instructs Kilowog and Guy Gardner to blast a hole through Warworld so they can dispel the weapon as far away as possible. In honor of Draaga's memory, Supergirl decides to assume his form.
Maxima meanwhile, realizes that the only reason she has been serving Brainiac is because he threatened her home world of Almerac. There's no guarantee however that Brainiac won't destroy Alermac anyway and she turns against him and sides with the heroes.


Notes
This issue is triangle number 13/1992.
Trivia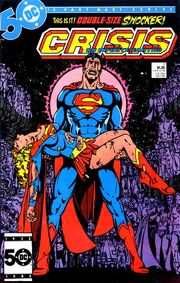 See Also
Recommended Reading
Links and References