Superman: Speeding Bullets
Talk

0

""Superman: Speeding Bullets"": When Doctor Wayne and Mrs. Wayne find a baby (Kal-El) in some kind of rocket, they take him up and raise him as their own. They name him Bruce and teach him respect for all people. Regardless of social class or race. Martha Wayne cultivated his heart and nurtured
Appearing in "Superman: Speeding Bullets"
Featured Characters:
Supporting Characters:
Villains:
Other Characters:
Locations:
Items:
Vehicles:
Synopsis for "Superman: Speeding Bullets"
When Doctor Wayne and Mrs. Wayne find a baby (Kal-El) in some kind of rocket, they take him up and raise him as their own. They name him Bruce and teach him respect for all people. Regardless of social class or race. Martha Wayne cultivated his heart and nurtured him with an unconditional love that shaped his soul. Doctor Thomas Wayne was a kind and compassionate father, despite his emotional reserve. He understood the power of Kal-El -- So quick, so agile: never a bruised or broken bone -- but he was more concerned with testing Bruce's Mental limits than his physical ones. He told Bruce "The cowards and bullies use violence, but you -- of all who live -- must aspire to something better. Something Higher."
Many years passed and Bruce lived a happy life... Until one fatal night when Bruce and his family went out for dinner at a fancy restaurant and a movie of his choice. As the Wayne's were walking through an alley, a robber stops them and robs them. As Bruce watched as his parents were gunned down, he remembered his father's words "It's time to face the world Bruce." The robber pointed his gun at Bruce and fires two shots. Out of anger, Bruce's Kryptonian powers go out of control and he burns the robber with his heat vision. The next morning, Joe Chill (the robber) was found face down in an alley: Dead. Body burned almost beyond recognition. Next to him, they found Bruce, his eyes were wide and unseeing. Covered in his parent's blood.
For years after that Bruce would constantly repeat "The bullets. The bullets. The bullets..." For years after the shooting, Bruce hid himself from the rest of the world, living in his parent's mansion in solitude. He hated violence and death with all his soul. The images of murder making him go insane.
One day, a group of robbers invaded his house. Bruce uses his powers to brutally attack the robbers, tearing them apart with his heat vision. He decides there is much he can do with his powers. He takes up the identity of the Batman. Bruce also takes up a job as publisher at the "Planet" which was bought by Lexcorp.
One day, when Lois was kicked out of Lex's Limo and was about to be attacked by a group of thugs, the "Batman" steps in and breaks them apart, he burns their flesh, splinters their bones. He was a dangerous psychopathic animal.
After Lex Luthor supposedly died in a flood of chemicals and flames, he was reborn as the Joker. He kidnaps Lois and flies away with her. He reveals his plan to take over Gotham and begins his attack. The Joker commands his mercenary army -- supplied with guns, grenades, fire-bombs and everything else Lexcorp money could buy. He intended to take control of the city and remake it in his own warped File: "The independent nation-state of Jokerania"
Batman eventually stops all the madness and reveals himself to be a true hero. A man of decency and high ideals.
Notes
This book was published in the Prestige Format.
Trivia
This story harkens back to a series of back-up features seen in issues of Superman (Volume 1) during the early 1980's called "Bruce (Superman) Wayne". In these stories, Kal-El was adopted by the Wayne Family and fought crime as Superman. He eventually married Barbara Gordon and retired from super-heroing shortly after their wedding. [1]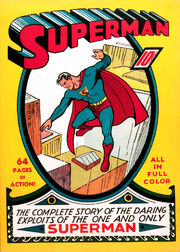 See Also
Recommended Reading
Links and References
Elseworlds

This comic issue, event, or limited series takes place in its own separate continuity as an Elseworlds story; although it may exist within a larger Elseworlds continuity as part of its series. This includes both titles with the Elseworlds Logo, and titles retroactively declared as Elseworlds Stories. This template will categorize articles that include it into the Elseworlds category.

Superman Family Storyline

This event or storyline is specifically related to Superman, or to members of the Superman Family. This template will automatically categorize articles that include it into the Superman Storylines category.

Elseworlds Storyline

This storyline exists within an Elseworlds continuity, and as such is not a part of the mainstream DC Universe, although it may be the basis for one of the realities of the 52 Multiverse. This template will categorize articles that include it into the category "Elseworlds Storylines."