Superman (Earth-10)
Talk

8
79,937pages on
this wiki
Superman was one of the superhumans appointed by Adolf Hitler to be his heroes. And Superman became a member of the Gerechtigkeitliga, enforcers of the Nazis' regime. Superman found a substance called Kryptonite, and noticed that could not only weaken but also kill him, which is the reason why he set out and destroyed apparently all the Kryptonite in the world. When the Forerunner arrived on Earth-10 to recruit superhumans for the Monarch's army, Superman attacked her but was defeated by being impaled with shards of Kryptonite, and ultimately recruited into Monarch's forces.[1]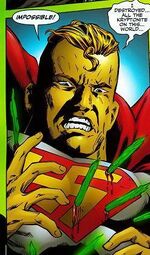 Superman was most likely killed while fighting the Monitors on Earth-51.

Powers and AbilitiesEdit
Powers
The Superman of Earth-10 possesses many of the same powers and abilities of his multiversal counterparts having shown independent flight, superhuman strength and heat vision and a weakness to Kryptonite.
Abilities
independent flight
Strength level
obvious superhuman strength, though his exact limits are not known
Weaknesses
Kryptonite

The Superman of Earth-10 has been depicted in two distinct ways. His early appearances show him as a stereotypical blonde Aryan with a Nazi swastika replacing the S in his chest shield, while other appearances portray him as a dark-haired clone of the standard Superman with a Schutzstaffel-style S in the shield. These may or may not be two distinct Nazi-oriented Supermen.
Related
Discover and Discuss
Footnotes