Superman Vol 2 75
Talk

0
84,341pages on
this wiki

"Doomsday!": Superman and Doomsday have their last final confrontation in Metropolis. As each foe delivers a crushing blow onto the other, the impact of their punches shatters windows for miles around. Police and military vehicles converge o
"Doomsday!"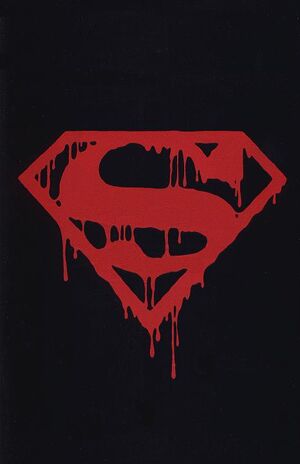 Previous Issue
Next Issue
It cannot end like this!

-- Bloodwynd
Appearing in "Doomsday!"
Featured Characters:
Supporting Characters:
Villains:
Other Characters:
Kevin Crow
Ned (First appearance)
Locations:
Items:
Vehicles:
Synopsis for "Doomsday!"
Superman and Doomsday have their last final confrontation in Metropolis. As each foe delivers a crushing blow onto the other, the impact of their punches shatters windows for miles around. Police and military vehicles converge on the scene, but the streets are in chaos. Superman gets a good luck kiss from Lois Lane, then charges into action.
The two combatants battle it out in front of the Daily Planet, at one point striking each other with such force that the windos shatters. Eventually, Superman delivers a fatal blow to Doomsday, snapping his neck, but Superman recieves an equally deadly blow. Lois Lane rushes over to Superman's limp form and cradles him in her arms, begging him to hold on until the paramedics arrive. However, it is too late, and the Man of Steel fades in her arms.
Superman is dead.


Notes
Trivia
The death of Superman was a subject of conversation on an episode of the Tonight Show with Jay Leno. Jay Leno was seen wearing one of the Superman memorial armbands across his left arm.
See Also
Recommended Reading
Links and References