Superman and the Men of Steel
Talk

0
76,870pages on
this wiki

Superman and the Men of Steel
Official Name
Superman and the Men of Steel
Characters
First appearance
Last appearance
History
Superman and the Men of Steel is a retelling of Superman's origin story, establishing the character's history in the DCnU following timeline changes caused by Flashpoint. It is Grant Morrison's debut arc in his Action Comics volume published as part of The New 52, with illustration by Rags Morales, Gene Ha and Andy Kubert. This succeeds the previous established origin story presented in Geoff Johns' Superman: Secret Origin.[1]

Issues
Paraphernalia
Items: None known.
Vehicles: None known.
Weapons: None known.

Notes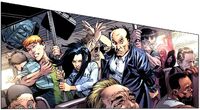 Pandora makes a cameo appearance to witness the events of this storyline, as she does every #1 issue published as part of The New 52. This is directly following her first appearance in the pages of Flashpoint.[2] She can be seen on the train next to Jimmy and Lois while it's about to crash.[1]
The younger Superman presented in this story is a clear homage to the Golden Age of comics, similar to how Morrison wrote All-Star Superman as a Silver Age tribute. Superman's attitude towards fighting crime is presented the same way as it was in his first appearance.[1]

Trivia
Recommended Reading
Links and References
Superman Family Storyline

This event or storyline is specifically related to Superman, or to members of the Superman Family. This template will automatically categorize articles that include it into the Superman Storylines category.