Talk:Carter Hall (New Earth)/Gallery
Ad blocker interference detected!
Wikia is a free-to-use site that makes money from advertising. We have a modified experience for viewers using ad blockers

Wikia is not accessible if you've made further modifications. Remove the custom ad blocker rule(s) and the page will load as expected.
Deleted Images
Why have all the images I added to the gallery been deleted? Was there swomething wrong with them? Tony ingram 07:28, November 28, 2011 (UTC)
Looking at it-every single picture (bar one) depicting Carter in any outfit he wore prior to about 1999 is no longer there. What is the point of a gallery if it does not represent the character's history? Tony ingram 12:07, November 28, 2011 (UTC)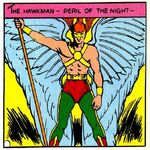 I'm sorry Tony, I didn't mean to upset you. I absolutely think that more historical costumes belong in here, I'm uploading some Golden Age images right now, but that's not why yours were deleted. This is absolutely not about white-washing history, it's about site conventions. I apologize, and I should've consulted you.
Your images were unsourced... it's site policy to delete images if they haven't been properly sourced after a certain length of time. This doesn't always get enforced, but we're in the process of making sure that every image on the site is properly credited. This gallery contains mostly unsourced images, so I've been deleting and replacing a lot of them... usually with higher quality versions.
Do you have anything I'm missing here that you would like to see me include? Because I'm still very much building this gallery, I have a lot more images that I want to upload. I also want to know where this image comes from, because I would love to upload a bigger and sourced version of it.

- Billy Arrowsmith (Talk), 16:58, November 28, 2011 (UTC)
Sorry Billy, I just got a bit annoyed because it took quite awhile to get some of those images together: I still have them, and can identify the sources with a bbit of double checking if t's OK to replace them? (File:Hawkman Zero Hour.jpg for instance comes from my copy of Zero Hour #5, while the one of him in the metal helmet with the shadow creeping over it is from All-Star Comics #72) I still don't know how to add the license info until the image is actually uploaded and in place, but I have figured out how to do it after the fact. I do like the 'Hawk Lives' one, too, but it isn't one of mine so I'm not sure where it comes from.
If any other images of mine are still unsourced, if you wouldn't mind letting me know before they're removed, I can probably provide the relevant info. Tony ingram 17:12, November 28, 2011 (UTC)