Teen Titans Vol 3 5
Talk

0
79,973pages on
this wiki

"Clash of the Teen Titans!"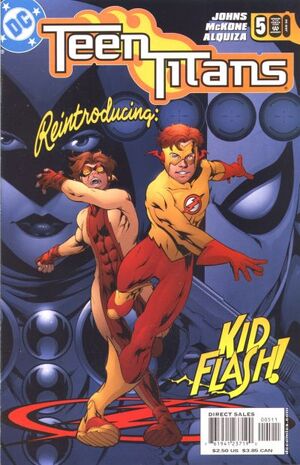 Previous Issue
Next Issue
You know how many laws you've broken? Illegal use of firearms... destruction of public property -- and then there's the obvious -- per California Penal Code 1165 -- picking fights with minors -- meaning us, jerk.

-- Kid Flash
Appearing in "Clash of the Teen Titans!"
Featured Characters:
Supporting Characters:
Villains:
Other Characters:
Locations:
Items:
Vehicles:
Synopsis for "Clash of the Teen Titans!"
Kid Flash plows into Deathstroke/Jericho with a flurry of blows. While Deathstroke is distracted with the speedster's attack, Robin tries to blind the villain with a batarang. Jericho is forced to abandon Deathstroke's body and begins hopping from one Titan to the next. Cyborg warns everyone not to make eye contact with him, but it does little good. Jericho then hops into Superboy and begins torching everything with heat vision. He then jumps into Beast Boy.
It looks as if it might be the end of the Teen Titans. Suddenly, Raven shows up. She extends her Darksoul self and Jericho leaves Beast Boy's body – apparently with the intention of taking control of Raven. But he screams in agony and disappears into Raven's soul self. Raven then teleports away.
Sometime later, Superboy and Wonder Girl are talking on the roof of Titans Tower. Cassie doesn't mention anything about her recent visitation by Ares (or the fact that her lasso has lightning powers), and Superboy tells her that he is living on a farm now under an assumed name – Connor.
Moments later, Wonder Woman arrives, grabs Superboy and tosses him far off into the distance. She tells Cassie that she is coming home – now!


Notes
Although the cover to this issue indicates that this is the re-introduction of Kid Flash, Bart actually became Kid Flash for the first time last issue.
Trivia
See Also
Recommended Reading
Links and References